President Barack Obama will visit Louisiana next week to see the damage the state has suffered from severe flooding.
Obama came under fire for for remaining on vacation during historic flooding in Louisiana.
NEW: President Obama will visit Baton Rouge, Louisiana to examine flooding damage this Tuesday, August 23 pic.twitter.com/ehwftFYK2o

— ABC News Politics (@ABCPolitics) August 19, 2016
Republican presidential candidate Donald Trump and his running mate, Indiana Gov. Mike Pence, visited portions of the state impacted by the flooding on Friday.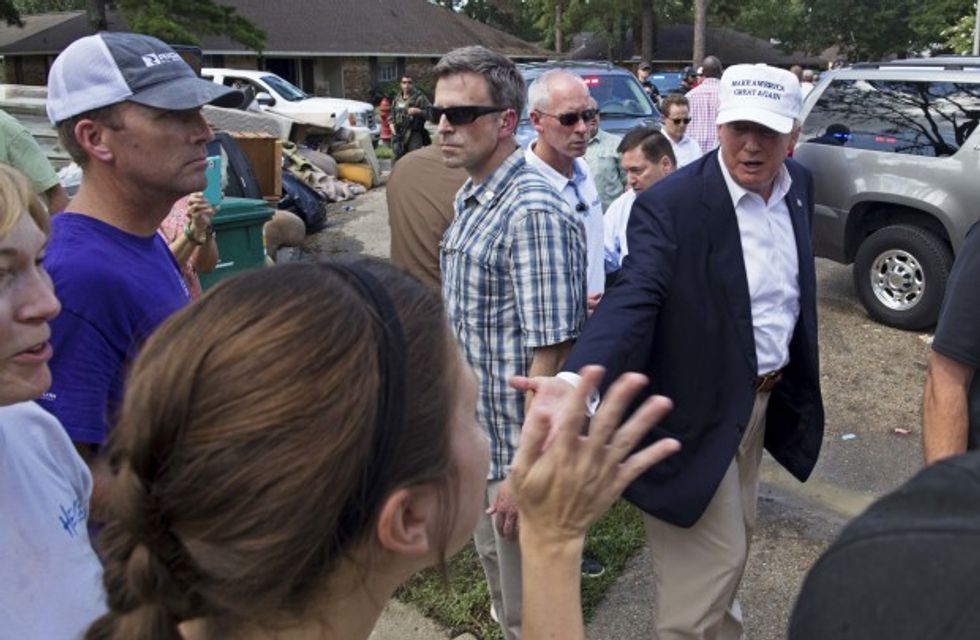 Republican presidential candidate Donald Trump greets flood victims during a tour of flood damaged homes in Denham Springs, Louisiana, Friday. (AP Photo/Max Becherer)
According to ABC News, 13 people have died and approximately 40,000 homes have been damaged by floodwaters.
During his visit, Trump criticized the president for failing to visit the state, and took a swipe at his golf game.
"The president says he doesn't want to come, he is trying to get out of a golf game," Trump said.
"I heard he wants to stay under par while we are under water," Louisiana native Tony Perkins, president of the Family Research Council and Trump supporter, replied.
"He will never be under par," Trump quipped.
Trump told reporters that the people of Louisiana "need a lot of help."
Trump took a question in Louisiana: pic.twitter.com/Kf8YsQ6Y3Y

— Sopan Deb (@SopanDeb) August 19, 2016
TheBlaze previously reported that Baton Rouge's The Advocate newspaper called for Obama, who is in the midst of a 16-day family vacation to Martha's Vineyard, to cut short his trip and visit the state during the crisis.
"Sometimes, presidential visits can get in the way of emergency response, doing more harm than good. But we don't see that as a factor now that flood waters are subsiding, even if at an agonizing pace," the editorial said. "It's past time for the president to pay a personal visit, showing his solidarity with suffering Americans."
"If the president can interrupt his vacation for a swanky fundraiser for fellow Democrat Hillary Clinton, as he did on Monday, then surely he can make time to show up for a catastrophe that's displaced thousands," the paper added.
Louisiana Gov. John Bel Edwards (D) told reporters at a press conference Thursday, "I am not complaining about our federal partnership in any way."
"The president is welcome to visit whenever he wants to visit," Edwards said, adding that he encouraged the president to wait to visit the state in order to avoid the additional strain on law enforcement a presidential visit could cause.
A spokesperson for the governor's office cautioned Trump against using the flood as a "photo-op" in a statement to Politico:
Donald Trump hasn't called the governor to inform him of his visit. We welcome him to LA but not for a photo-op. Instead we hope he'll consider volunteering or making a sizable donation to the LA Flood Relief Fund to help the victims of the storm.
Democratic presidential candidate Hillary Clinton wrote in a Facebook post that she called Edwards to discuss the damage and her "heart breaks for Louisiana."
The White House announced that the president will visit Louisiana after this article's publication. It has been updated to reflect his plans.
—
Follow the author of this story on Twitter and Facebook: