During his weekly video address, President Obama spoke about America's National Parks and shared some of his own memories and photos from a recent family trip out west. The president also used this opportunity to push for more action on one of his favorite topics: climate change.
The address, titled: "Celebrating the 100th Anniversary of the National Park Service," paid tribute to America's more than 400 national parks and monuments while Obama encouraged people to "find your park" and "experience these sacred places, too."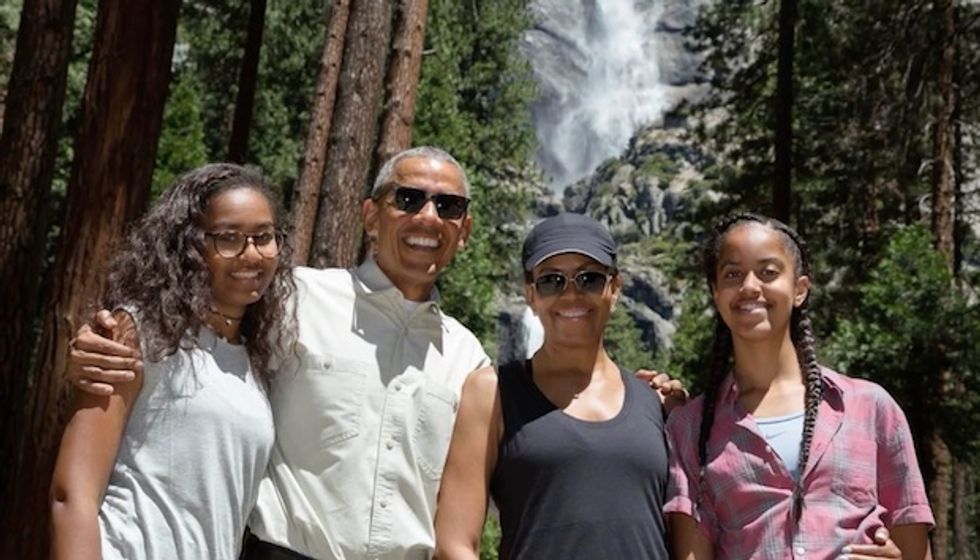 Image source: YouTube
President Obama proudly declared his success in "protecting more than 265 million acres of public land and waters, more than any administration in history," adding, "we've got more work to do to preserve our lands, culture and history."
Obama later shifted his focus from celebrating the 100th anniversary of the national parks system to climate change.
"As we look ahead, the threat of climate change means protecting our public lands and waters is more important than ever. Rising temperatures could mean no more glaciers in Glacier National Park, no more Joshua trees in Joshua Tree National Park," Obama said.
The president also speculated climate change could threaten the existence of some of the country's most well-loved monuments and destroey "vital ecosystems in the Everglades, even threaten Ellis Island and the Statue of Liberty."
--
Follow the author of this story on Twitter and Facebook: