In the wake of Olympic swimmer Ryan Lochte telling NBC's Matt Lauer over the weekend that he exaggerated his story about being robbed at gunpoint in Rio and is taking "full responsibility" for an incident at a gas station convenience store, a USA Today investigation is casting doubt on the veracity of Rio police accounts, particularly their characterization of Lochte and three fellow Team USA swimmers as vandals.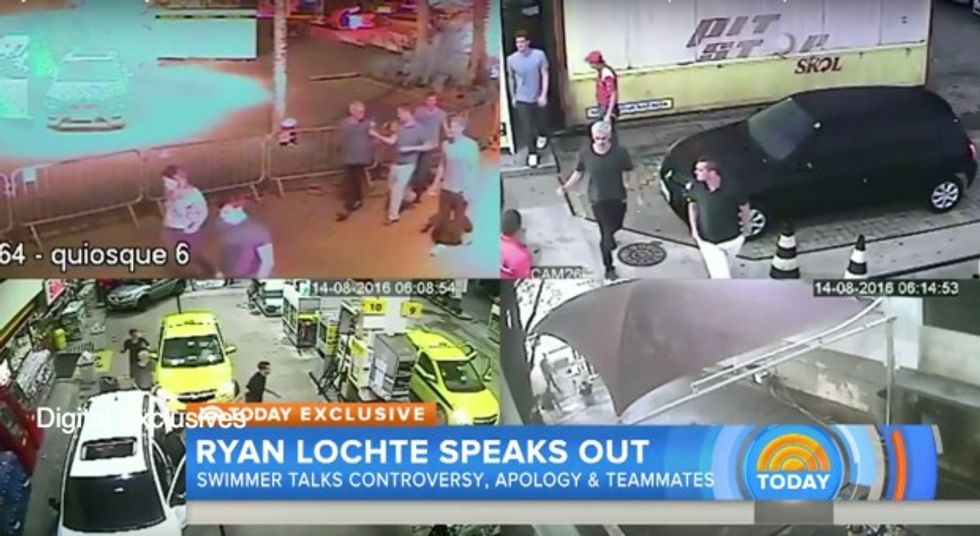 Image source: NBC News
In fact, USA Today said its investigation — aided by witness statements and surveillance video — corroborates Lochte's amended story in which he said he thought he and Jimmy Feigen, Gunnar Bentz and Jack Conger were being robbed at the gas station by armed men who flashed badges, pointed guns at them and demanded money.
One of the primary narratives going around, declared by Rio police, has been that the swimmers vandalized the convenience store bathroom. That much was noted in an NBC News story accompanying Lauer's interview with Lochte.
But USA Today's investigation challenges that assertion:
An extensive review of surveillance footage by a USA TODAY Sports videographer who also visited the gas station supports swimmer Gunnar Bentz's claim that he did not see anyone vandalize the restroom, an allegation that in particular heightened media portrayals of the four as obnoxious Americans behaving recklessly in a foreign country. Meanwhile, Rio authorities have declined to identify the guards or offer any details beyond confirming they are members of law enforcement who were working a private security detail. [...]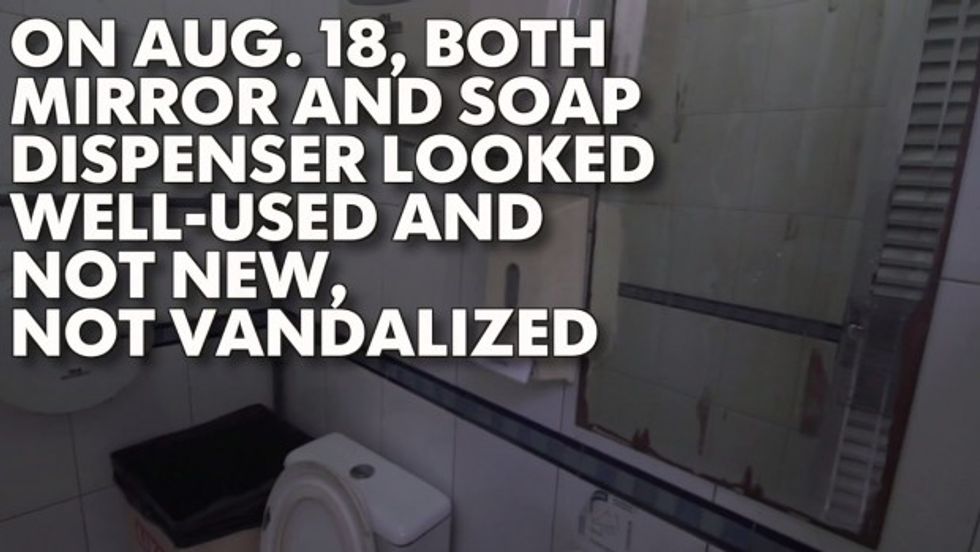 Image source: USA Today
A USA TODAY Sports videographer who visited the bathroom Thursday found no damage to soap dispensers and mirrors and said none of those items appeared to be new. Some media accounts suggested the men had broken down a door, which USA TODAY Sports also did not observe.

Bentz said in his statement that he believes there are surveillance videos shot from different angles that have not been released. He also said he did not see anyone damage the bathroom or even enter it.

Of the videos available, including footage from a camera trained on the restroom doors, a review by USA TODAY Sports does not find any showing the swimmers going near the bathrooms. They are not seen entering or coming out of them on those recordings.
A few other things are clear. The swimmers were returning to the Olympic Village after a party and had been drinking. At the convenience store, Bentz and Brazilian authorities agreed that the swimmers apparently didn't use the bathroom at all and instead urinated behind the gas station. In addition, Lochte pulled down an advertising sign from a wall and acknowledged being intoxicated at the time.
When security guards came on the scene, Bentz's recollection closely that the armed guards demanded money from the swimmers in exchange for letting them go appears to closely match Lochte's revised account, USA Today said.
"It's how you want to make it look like," Lochte told Lauer. "Whether you call it a robbery, whether you call it extortion or us just paying for the damages. Like, we don't know. All we know is there was a gun pointed in our direction and we were demanded to give money.''
Here's Lochte's complete interview with Lauer:
More from USA Today:
Joao Batista Damasceno, a Rio judge, does not discard the possibility that the guards' actions could be rightly interpreted as a robbery.

"If they only asked for the amount of the damage, it may not be a robbery," Damasceno said in a message to USA TODAY Sports. "But if the amount taken is higher than the value of the damages, with the use of a weapon by the 'security,' this is robbery."

Damasceno added that even if someone has the right to receive compensation, that does not mean they can determine the amount on their own and take actions such as drawing guns to collect. Brazilian law rarely allows for a person to obtain such a payment through the use of their own force – such disputes should be mediated by the state, he said.
Jeffrey Ostrow, Lochte's attorney, insisted to USA Today that the foursome were robbed: "That part of the story will never change. We stand behind that."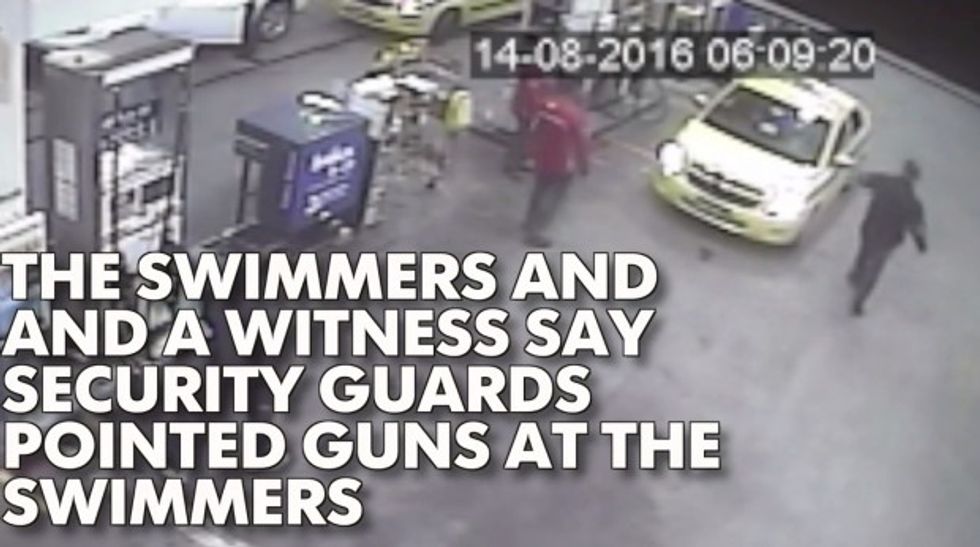 Image source: USA Today
One of the biggest issues seemingly still hanging out there is an apparent lack of transparency on the part of Rio law enforcement, USA Today said.
For example, police wouldn't let a USA Today reporter examine witness testimony, the paper said, and wouldn't offer any additional information, saying the investigation was confidential.
More from USA Today:
By Thursday, after police had pulled Bentz and Conger off their U.S.-bound flight and detained them for questioning, police welcomed dozens of camera crews that squeezed into the station to film the men as they were escorted by cops into the office. Immediately after their interviews, police called a news conference – in a nearby theater – to announce the official version of events.

Shortly afterward the police released their reports of testimony given by Conger and Bentz that included statements casting doubt on Lochte's version of events. However, that testimony was missing a portion of the men's story – their interactions with armed security guards.
By late Friday, USA Today said that even partial testimony had been removed from the police's social media site.
In the end, Rio police said Lochte and Feigen filed a false report, which is punishable by six months in prison. Lochte left Brazil before authorities decided to detain him, but Feigen was still there and paid $11,000 reportedly earmarked for charity in lieu of facing charges. Bentz and Conger never faced charges.
You can read the entire USA Today investigative report here.
This story has been updated.