The State Department is reviewing nearly 15,000 "previously undisclosed" emails recovered during the FBI's investigation into Democratic presidential nominee Hillary Clinton's use of a private email server during her time as secretary of state, according to the Associated Press.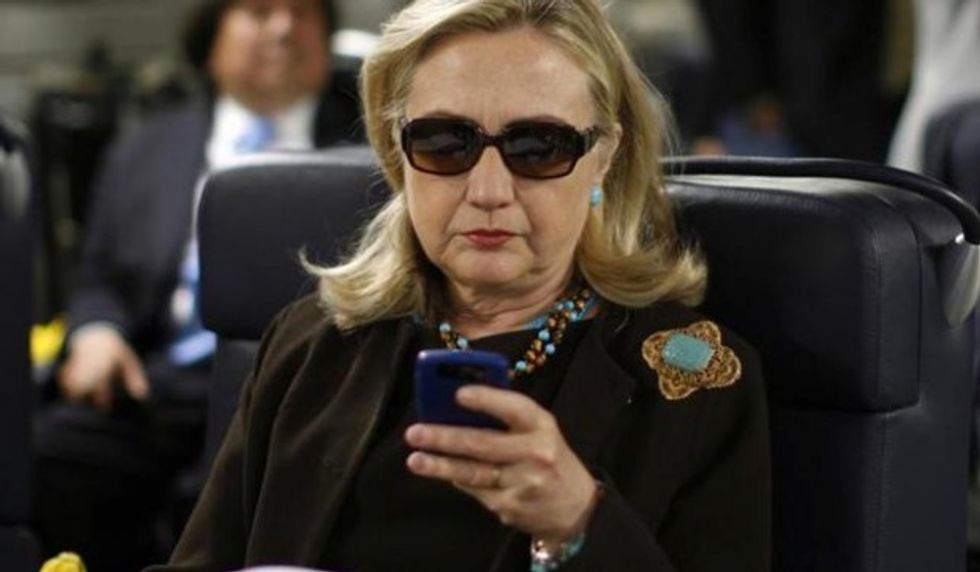 Hillary Clinton (AP Photo/Kevin Lamarque, Pool, File)
State Department lawyers told U.S. District Court Judge James E. Boasberg on Monday that they "anticipate processing and releasing the first batch of these new emails in mid-October," just prior to the presidential election in November — raising the possibility that the contents of the emails could impact the race.
Lisa Olson, a Justice Department lawyer who is representing the State Department, told Boasberg that officials are not yet sure how many of the emails are work-related, according to the AP.
Clinton has claimed that she deleted only emails of a "personal" nature before turning over 55,000 pages of her "work-related" emails to the State Department last year. According to the AP, most of those work-related emails have been released, although "some have been withheld because they contain information considered sensitive to national security."
The email releases are part of a federal public-records lawsuit filed by the conservative watchdog group Judicial Watch.
In a statement, RNC Chairman Reince Priebus said "Hillary Clinton seems incapable of telling the truth":
Clinton's pattern of serial dishonesty is completely unacceptable for a candidate seeking the nation's highest office, and her refusal to tell the truth and own up to her poor judgment is a preview of how she would conduct herself if elected president. Even worse, this news comes on the heels of the Clinton camp falsely trying to pin her email woes on Colin Powell, raising serious questions about whether she lied to the FBI. The process for reviewing these emails needs to be expedited, public disclosure should begin before early voting starts, and the emails in question should be released in full before Election Day.
Brian Fallon, Clinton's press secretary, told CNN that he is "not sure" what is in the emails that the State Department will turn over, adding that the campaign supports the release, but only if the emails are "work-related."
HRC spox says they are 'not sure what additional materials the Justice Department may have located' in email case pic.twitter.com/E4aGaadSbU

— Dan Merica (@danmericaCNN) August 22, 2016
—
Follow the author of this story on Twitter and Facebook: