Even Democratic voters aren't so inclined to believe that their party's presidential nominee is a very honest candidate.
According to pollster Frank Luntz's latest focus group results, Republicans and Democrats alike did not react well as they viewed a clip of Hillary Clinton contending that she has "tried" to "level with the American people." However, according to Luntz's results, Democrats reacted even more negatively than Republicans.
Luntz told CBS that voters held devices approximately the same size as a remote control and moved a button to indicate if they would be more or less likely to vote for that candidate based off the clip they were shown. And as Clinton continued to defend her own trustworthiness, support among both Republican and Democratic voters plummeted.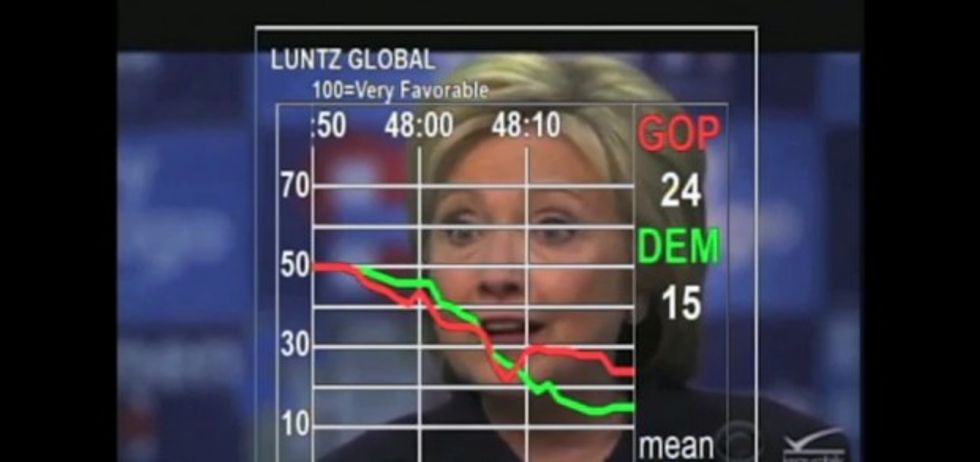 Image source: CBS News
"That was one of the worst responses on the campaign trail I have ever seen — not just in this election," Luntz said. "You don't try to tell the truth. Either you do or you don't."
The pollster pontificated that Clinton's negatives are higher than her positives because such responses seem to lack integrity.
Luntz's focus group was also shown a CBS News report that debunked the former secretary of state's claim that she came under sniper fire in Bosnia. Once again, both red and green lines drastically dropped, with the Democrats' green line dropping below that of the Republicans' red line.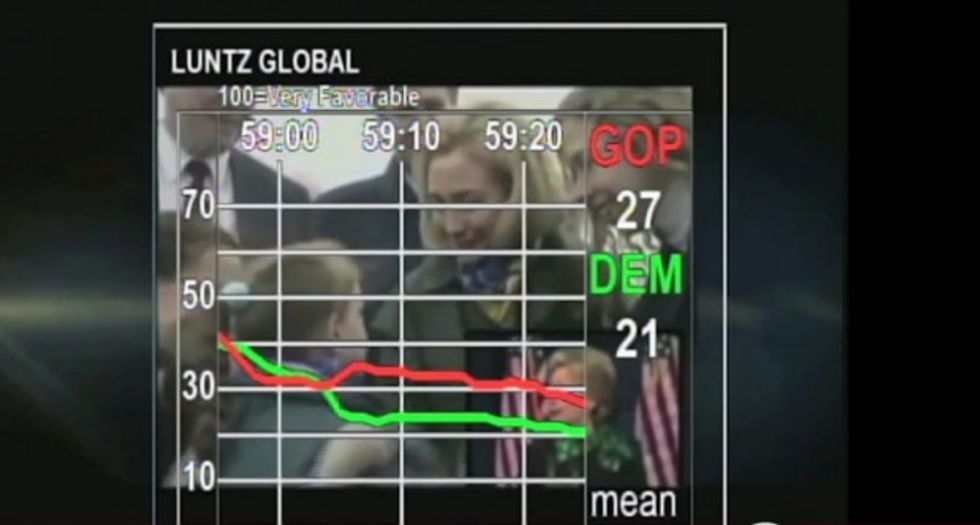 Image source: CBS News
"I think that if Hillary Clinton loses, she loses because of the issue of integrity, the perception that she is dishonest," Luntz said. "Our voters, even before they saw these videos, had an issue with her dishonesty."
Luntz's focus group wasn't too keen on GOP presidential nominee Donald Trump either. Luntz talked with the voters who called Trump "outrageous" and said the Manhattan real estate tycoon had lost them along the way.
One of the major things voters took umbrage with was Trump's attacks on the Gold Star family who spoke at the Democratic National Committee.
—
Follow Kaitlyn Schallhorn (@K_Schallhorn) on Twitter