While Donald Trump insists the wall along the U.S.'s southern border is "100 percent" going to be built, he is voicing openness to "softening" the laws dealing with people who are living in the country illegally.
The Republican presidential nominee made the comments — a pivot away from his hardline stance on immigration during the primaries — while taping a Fox News town hall event with Sean Hannity in Austin, Texas, Tuesday afternoon.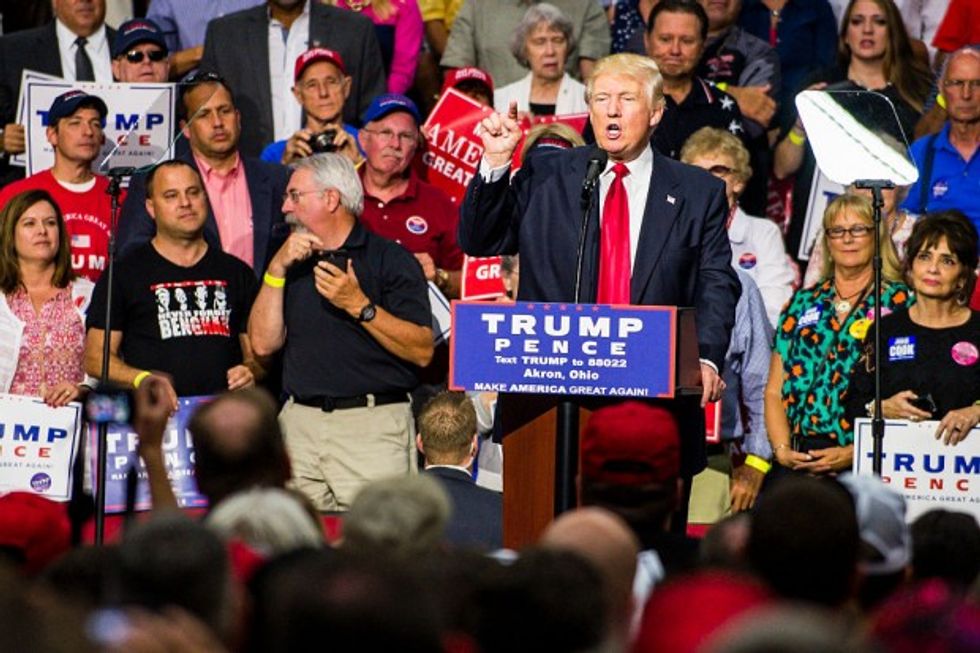 Republican Presidential candidate Donald Trump addresses supporters at the James A. Rhodes Arena on August 22, 2016 in Akron, Ohio. Trump currently trails Democratic Presidential candidate Hillary Clinton in Ohio, a state which is critical to his election bid. (Angelo Merendino/Getty Images)
"Is there any part of the law that you might be able to change that would accommodate those people that contribute to society, have been law-abiding, have kids here?" Hannity, a Trump supporter, asked, per The Texas Tribune. "Would there be any rule in your mind?"
"There certainly can be a softening because we're not looking to hurt people," Trump replied. "We want people — we have some great people in this country. We're going to follow the laws of this country."
Throughout the Republican primaries, Trump battled his way to the top of the polls campaigning on very staunch immigration reform. While on the campaign trial, the billionaire businessman advocated mass deportations of anyone living in the U.S. illegally. The shift comes one day after the Trump campaign announced the postponement of a key speech on immigration policy. A source said it was delayed in order to "fine-tune" Trump's position.
Earlier in the Tuesday interview with Hannity, Trump was asked if people "who have worked hard, who have been here a long time" would be sent back to the country they came from under his administration.
"We're going to follow the laws," Trump told the Fox host. "We're going to see where people are, we're going to see how they've done."
The GOP nominee indicated he would implement some sort of "merit system," should he become president. He also sympathized with "really great people" who have worked for years to become U.S. citizens.
"They're great people in some cases, and I guess in some cases, maybe not," he told Hannity. "But you have really great people wanting — and so proudly wanting — to come into our country and now what you're doing is you take people away from that line."
—
Follow the author of this story on Twitter: