Republican presidential nominee Donald Trump's campaign spokeswoman, Katrina Pierson, defended the candidate's apparent change of position on deporting all 11 million illegal immigrants already in the U.S., saying the candidate hasn't actually switched positions but rather "he has changed the words he is using."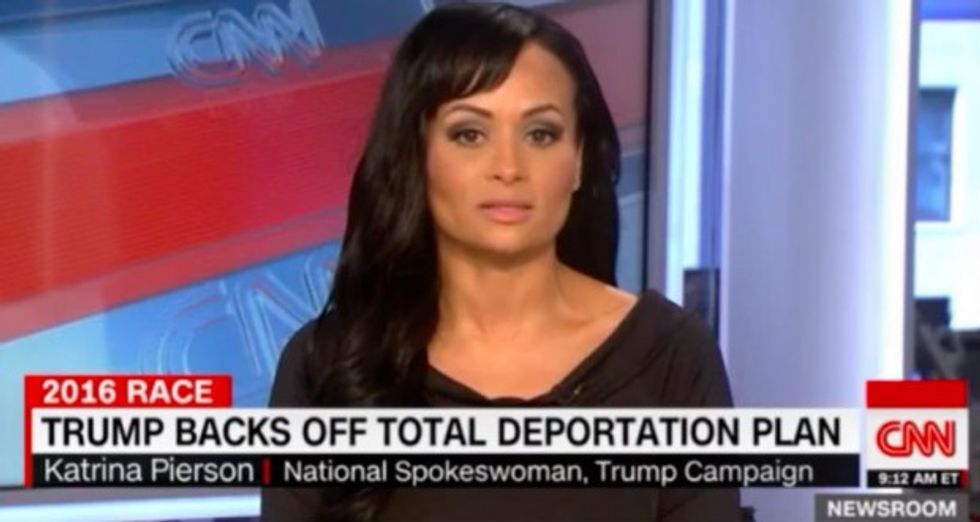 Katrina Pierson (Image source: YouTube)
Pierson was addressing Trump's seeming walk-back of statements he made during the Republican primary that as president he would have a "deportation force" remove the roughly 11 million illegal immigrants and their families from the U.S., take them back to their home countries and eventually let them come back in legally. Recently, however, Trump has softened his tone, indicating that he would allow the illegal immigrants who haven't committed any crimes to stay here and obtain legal status.
Responding to the switch on CNN on Thursday, Pierson said that Trump "hasn't changed his position on immigration, he has changed the words that he is saying." Pierson's reply prompted laughter from her fellow Republican panelist, Amanda Carpenter, who pointed out, "That would be a change."
Later in the segment, Pierson doubled down on her claim, saying, "There is not a different message. He is using different words to give that message."
(H/T: Mediaite)
—
Follow the author of this story on Twitter and Facebook: