Lifelike robotic simulators of human infants used in programs intended to prevent teenage pregnancy might actually have the opposite effect, according to a new study.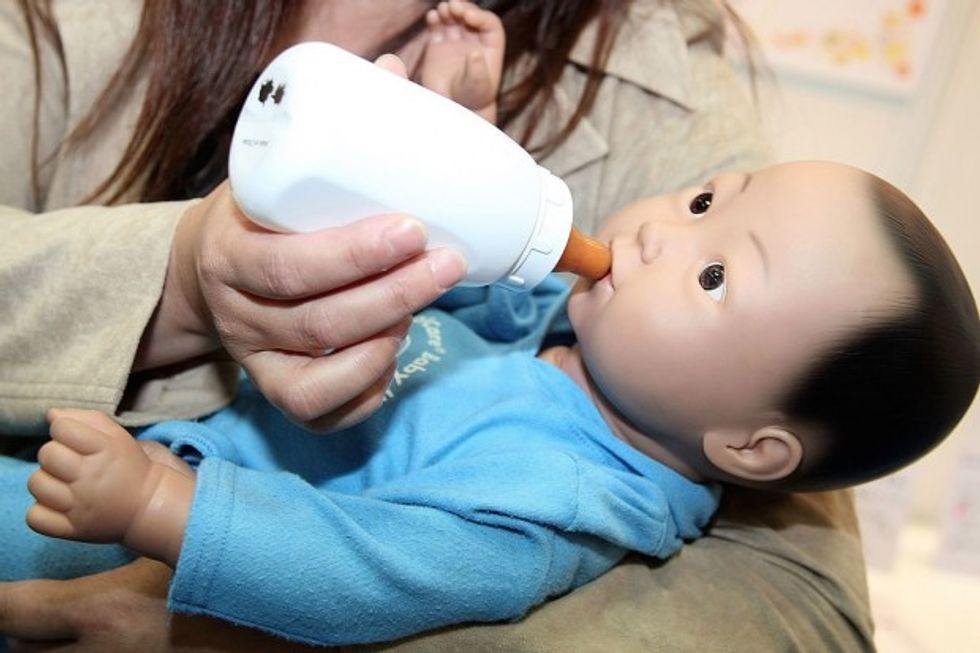 A woman holds the child-care simulation robot "My Baby 2" by RealityWorks. (Koichi Kamoshida/Getty Images)
The simulators — which are designed to cry like infants and require a caretaker to feed, burp and rock them — are given to teenagers to teach them about the difficulties of parenthood. But the authors of an Australian study published Thursday in The Lancet found that the robotic infants are ineffective at preventing pregnancy. Researchers said this may be because some users actually enjoy caring for them.
"A lot of the teenagers become attached to their fake babies," Dr. Sally Brinkman, the lead author of the study, told ABC News.
According to the study, researchers observed more than 2,800 teen girls between 13 and 15 years old at 57 schools in Australia, tracking them until they turned 20. Some of the girls were in health education curriculums that utilized the simulators, and some were not. They found that the girls who used the simulated infants were more likely to give birth or have an abortion prior to the age of 20 than their peers who did not use the simulators.
Robot babies, pregnancy prevention programs increase pregnancy rates in teens @telethonkidshttps://t.co/NiobW0XGPd pic.twitter.com/DDlsUhTh1f

— Au Science Media Ctr (@AusSMC) August 26, 2016
"Our study shows that the pregnancy prevention [program] delivered in Western Australia, which involves an infant simulator, does not reduce the risk of pregnancy in teenage girls. In fact, the risk of pregnancy is actually increased compared to girls who didn't take part in the intervention," Brinkman said in a statement. "Similar [programs] are increasingly being offered in schools around the world, and evidence now suggests they do not have the desired long-term effect of reducing teenage pregnancy. These interventions are likely to be an ineffective use of public resources for pregnancy prevention."
In a statement to ABC News, Timm Boettcher, the CEO of RealityWorks, which manufactures the simulators, defended the effectiveness of their program.
The study being released today by The Lancet was not a representation of our curriculum and simulator learning modality but the researchers "adaptation" and is consequently not reflective of our product nor its efficacy. The RealCare Program, is a combination of curriculum and hands-on aids, and if they are being tested and judged for effectiveness should be judged in their entirety.
Boettcher added the RealCare Program also uses is 14 hours of class time with "learning activities and a prolonged take home simulator experience," while the Australian version studied a program that had "a mere 2.5 hours" of class time.
—
Follow the author of this story on Twitter and Facebook: