PORTLAND, Ore. (TheBlaze/AP) — Oregon police and two FBI agents could face a lawsuit from the widow of an Arizona rancher who took part in the Malheur Wildlife Refuge occupation and was killed in a confrontation with authorities.
Jeanette Finicum and the family are definitely pursuing a lawsuit, California-based attorney Brian Claypool told the Oregonian/OregonLive.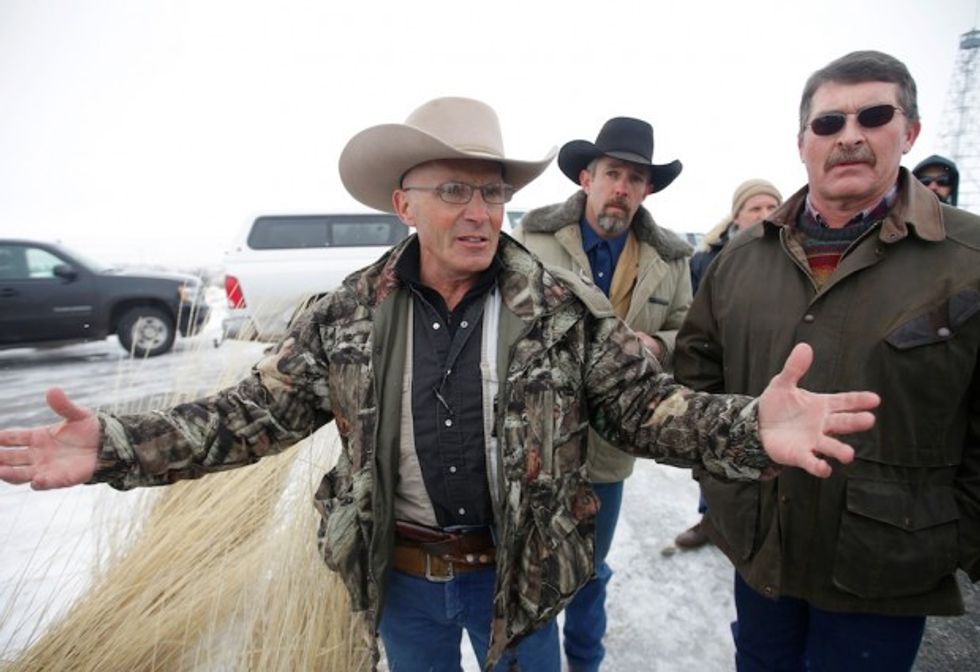 In this Jan. 9, 2016 file photo, Robert "LaVoy" Finicum, left, a rancher from Arizona, talks to reporters at the Malheur National Wildlife Refuge near Burns, Ore. On Tuesday, March 8, 2016, authorities said police were justified in killing Finicum during a traffic stop on Jan. 26, 2016. (AP Photo/Rick Bowmer, file)
Prosecutors determined Oregon State Police officers were justified in firing at Robert "LaVoy" Finicum. Claypool says evidence shows shots were fired contrary to statements made during the investigation.
The Department of Justice is investigating whether an agent lied about firing two shots that did not hit Finicum and if four others worked to hide it later.
"There is now physical evidence (shell casings) that proves that two FBI agents lied during the law enforcement investigation by stating that they did not fire the first shots at Finicum's vehicle," Claypool told the Oregonian. "The US Department of Justice is investigating the two FBI agents for perjury."
Claypool — who also represents Ryan Bundy in his case related to the occupation — said a press conference is planned for September.