San Fransisco 49ers quarterback Colin Kaepernick became the subject of heated debate — literally — when he refused to stand for the national anthem during a preseason game last week, and now a Gold Star mom is weighing in on the issue.
"My heart is exploding, my lungs are without air, my blood is boiling, my body is shaking, and tears are running down my face," the mother, whose comments were first shared by CNN's Jake Tapper, wrote of the athlete's controversial decision.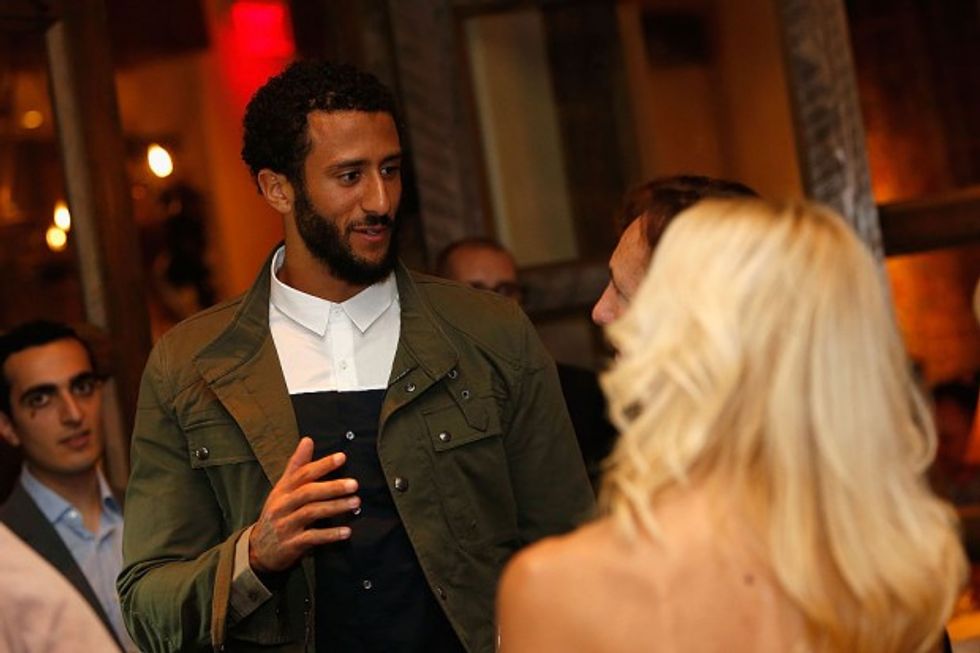 San Fransisco 49ers quarterback Colin Kaepernick (Lachlan Cunningham/Getty Images for Haute Living)
Kaepernick said he refused to "show pride in a flag for a country that oppresses black people and people of color." He argued doing so would be "selfish" because "there are bodies in the street and people getting paid leave and getting away with murder."
But the unnamed Gold Star mom reminded the football player of other bodies laying in the streets — veterans who have lost their lives in combat.
"I am sitting in my living room looking outside at my American flag — flying at half staff," she wrote. "You see, my son's body lay in a street after an [improvised explosive device] blew up the vehicle he was fighting in. His blood stains the sands of Afghanistan. He died protecting the ideals of the flag you refuse to respect."
"He died so that ungrateful, privileged, and arrogant men like you can be just that — ungrateful, privileged, and arrogant," she continued. "There are brave men and women all around that stand between evil and you. Men and women willing to die to protect you because they believe in the ideals this country was founded on."
Whatever you may think about Colin Kaepernick's decision, here's how it impacted one Gold Star Mom. pic.twitter.com/3uaUxNsFoM

— Jake Tapper (@jaketapper) August 28, 2016
Of his decision, Kaepernick said he is not "looking for approval," but is just "stand[ing] up for people that are oppressed." And on Sunday, he doubled down on his defense of the move, telling reporters he will continue to sit during the "Star-Spangled Banner" until he sees "significant change and I feel like that flag represents what it's supposed to represent, this country is representing people the way that it's supposed to."
But the mother of the slain soldier wondered, what about honoring veterans?
"Ask them how their heart feels when they hear the national anthem being sung? You are a public figure, someone young people look to as an example. Shame on you," she charged. "Shame on you for your disrespect towards those who are true examples of honesty, integrity, pride, and leadership. Shame on you for disrespecting my son and his life. His sacrifice."
Tuesday morning, Debbie Lee, another Gold Star mom spoke about the Kaepernick controversy during an interview on The Morning Blaze radio program. Lee challenged the 49ers quarterback to read the final letter sent home by her son, Navy SEAL Marc Lee, just weeks before he was killed in Ramadi.
—
Follow the author of this story on Twitter: