One of multiple life-sized statues of Republican presidential nominee Donald Trump in the nude will be auctioned in October, and at least some of the profits will benefit an immigrant advocacy group.
According to a press release from Julien's Auctions, the Los Angeles-based auction house will auction the statute called "The Emperor Has No Balls," estimated to be worth between $10,000 and $20,000.
Some of the profits from the sale will be donated to the National Immigration Forum, an organization whose mission is "to advocate for the value of immigrants and immigration to the nation."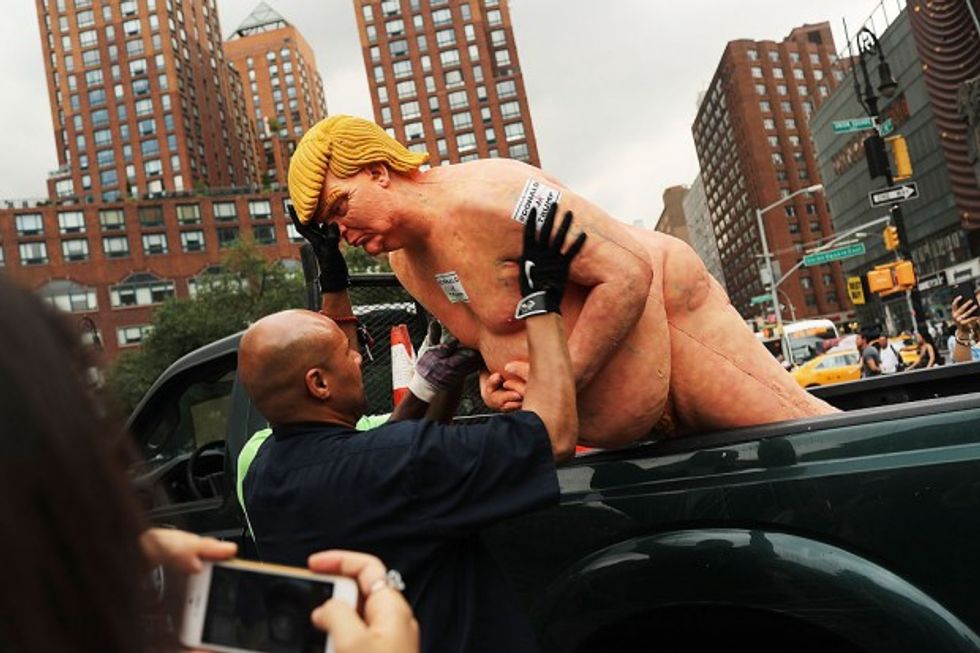 Park authorities haul away a statue of a naked GOP presidential candidate Donald Trump that appeared in Union Square Park on Aug. 18 in New York City. The illegally placed statue drew hundreds of curious onlookers. (Spencer Platt/Getty Images)
A spokesperson for Julien's Auctions said in the release, "The explicit statue quickly became a symbol of political protest art and garnered international coverage when the gallery refused to hide or censor the statue choosing instead to display it prominently and in public view."
"This 'Naked Trump' was rescued by La Luz de Jesus Gallery Director Matt Kennedy and is the only remaining example not confiscated or destroyed," the spokesperson added.
According to CNBC, the statue was "created by members of the anarchist art collective INDECLINE."
Similar unflattering statues of Trump were erected in several cities earlier this month.
A closer (PG rated) look at naked Donald Trump statue in SF. Not sure what the backstory is @nbcbayarea pic.twitter.com/LGxIscbdOf

— Pete Suratos (@PeteSuratosTV) August 18, 2016
The auction house will also sell a piece called "Hillary Clinton Cojones" that is estimated to be worth between $10,000 and $15,000.
—
Follow the author of this story on Twitter and Facebook: