Republican presidential nominee Donald Trump said Wednesday night there is "only one core issue" in the debate over immigration: "the well-being of the American people."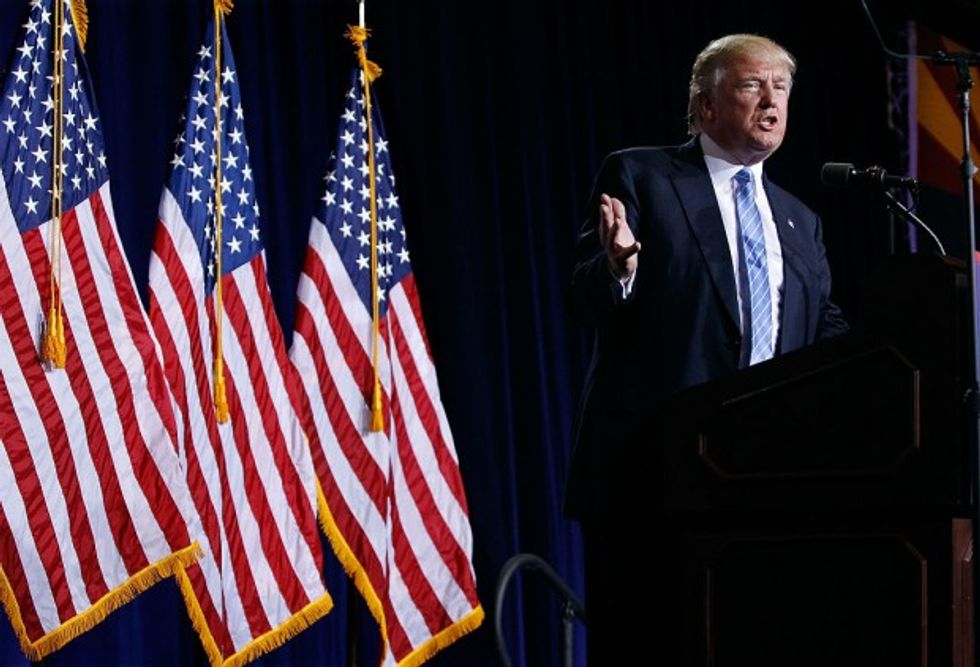 Republican presidential nominee Donald Trump speaks during a campaign rally on August 31, 2016 in Phoenix, Arizona. (Ralph Freso/Getty Images)
In a highly anticipated speech on immigration in Phoenix, Trump said laws should be developed to protect "all aspects of American life: the worksite, the welfare office, the education system and everything else."
Trump sought to clarify his position on immigration after recently indicating openness to softening his hardline stance on the issue. He pledged "there will be no amnesty."
"We will build a great wall along the southern border and Mexico will pay for the wall," Trump said. "One hundred percent. They don't know it yet, but they're going to pay for it."
He said that the "powerful" and "impenetrable" wall would be accompanied by additional border agents, sensors, towers and aerial surveillance.
Trump outlined a 10-step process, which he called "America first," that he said would include ending "catch and release" policies and blocking funding for sanctuary cities. He said he would work with Congress to pass Kate's Law — a measure named for Kate Steinle, who was fatally shot by an illegal immigrant — which would establish mandatory minimum sentences for individuals who illegally reenter the United States after being deported. Trump also said he would work to strengthen e-verify regulations.
A Trump administration, he added, would suspend issuing visas to people from areas where adequate vetting cannot occur, citing Syria and Libya as examples.
Trump noted that as part of a vetting process, applicants would be quizzed on their attitudes toward "women, gays and other minorities."
Trump also said he would insist upon countries taking back their citizens the United States would deport.
"We're like the big bully that keeps getting beat up," Trump said.
Trump brought onstage family members of Americans murdered by illegal immigrants and invited them to speak about their loved ones.
Prior to his speech, Trump visited Mexico and met with the country's president, Enrique Pena Nieto. Trump and Pena Nieto offered conflicting accounts of the meeting after it took place. Trump said they did not discuss having Mexico pay for his proposed border wall between the two nations, while Pena Nieto said he told Trump that Mexico would not pay for it.
Pena Nieto faced backlash from many in his country after meeting with Trump primarily over not demanding an apology from the GOP nominee for his controversial statements about Mexicans made in 2015.
—
Follow the author of this story on Twitter and Facebook: