Just hours ahead of Donald Trump's surprise meeting with Mexican President Enrique Peña Nieto, Vicente Fox, the country's former leader, condemned the sit-down between the two men.
"I don't understand why President Peña has offered this opportunity. I think it's nothing more than a political stunt. Trump is using Mexico, is using President Peña to boost his sinking poll numbers," he told CNN's Chris Cuomo Wednesday morning. "I think that President Peña is taking an enormous political risk by hosting Trump."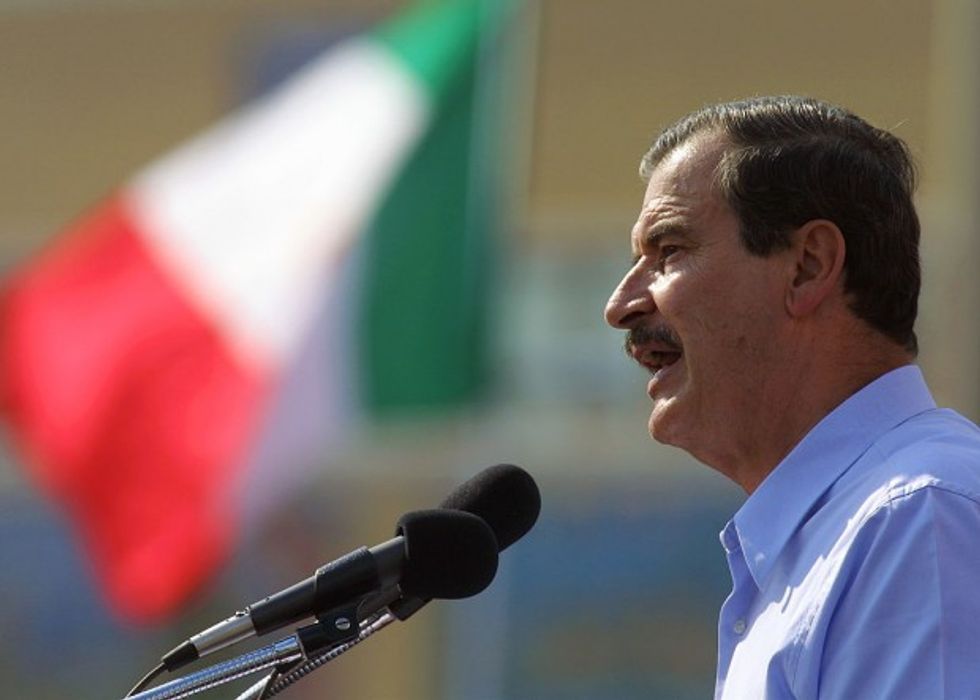 Former Mexican President Vicente Fox (Tim Boyle/Getty Images)
"If he's perceived as going soft on Trump," Fox continued, "it will hurt him greatly — he would even be considered like a traitor."
Fox told Cuomo that Trump "is not welcome" in Mexico and "will be rejected by everybody here."
"We don't like him, we don't want him, we reject his message," he said at the start of the interview.
Earlier in the year, Fox went on a profanity-laced tirade against the Republican presidential nominee on Fox News, telling host Maria Bartiromo that Mexico is "not going to pay for that f***ing wall."
However, he later apologized for his language on the same network during an interview with host Bill O'Reilly. He also invited Trump to visit his country to "learn about the real Mexico."
Cuomo confronted Fox on the apparent flip-flop, telling the former president he seemed "very angry again" and asked him "what happened" to his apology and invitation to Trump.
Fox doubled down on his assertion that Trump will be "rejected" by the Mexican people and called the meeting a "desperate move" for both the GOP nominee and Peña Nieto, who has a 63 percent disapproval rating, according to a recent poll from national Mexican newspaper El Universal.
Trump, for his part, took to Twitter to call out Fox for apparently rescinding his invitation.
Former President Vicente Fox, who is railing against my visit to Mexico today, also invited me when he apologized for using the "f bomb."

— Donald J. Trump (@realDonaldTrump) August 31, 2016
The talk between Trump and Peña Nieto comes the same day the billionaire businessman is expected to deliver a big speech on his immigration policy. Building a wall along the U.S.'s southern border and forcing Mexico to pay for it has been a central tenet of Trump's presidential campaign.
Watch a portion of the interview with Fox below:
Former Mexican president: Trump "is not welcome to Mexico… We don't want him. We reject his message." https://t.co/zhaKcrqz6Q

— CNN (@CNN) August 31, 2016