Tim Kaine, the Democratic nominee for vice president, was grilled by ABC's Martha Raddatz on Sunday over new revelations regarding Hillary Clinton's ongoing private email scandal, asking if the Democratic nominee needs to provide more answers to the public.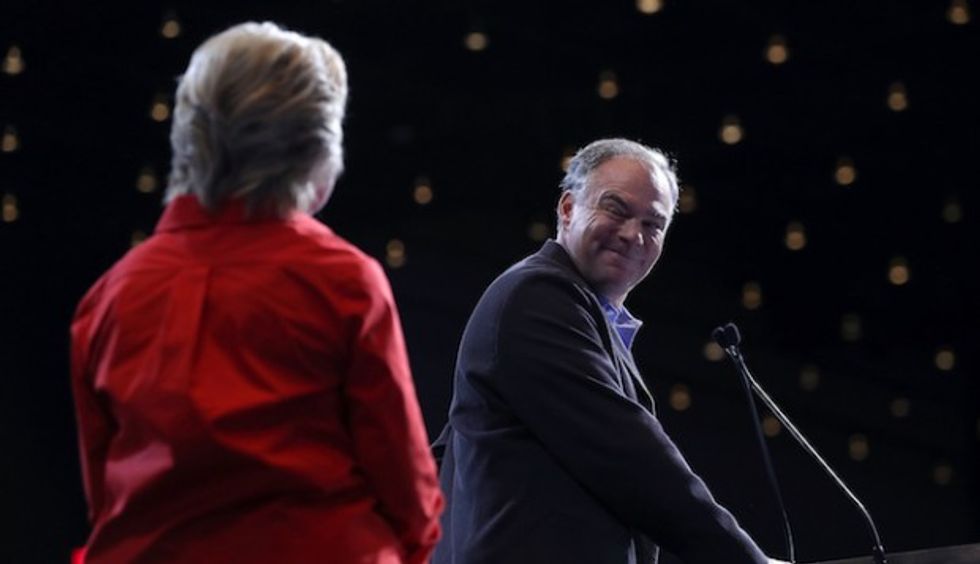 PITTSBURGH, PA - JULY 30: Democratic vice presidential nominee U.S. Sen Tim Kaine (D-VA) looks back at democratic presidential nominee former Secretary of State Hillary Clinton as he speaks during a campaign rally at the David L. Lawrence Convention Center on July 30, 2016 in Pittsburgh, Pennsylvania. Hillary Clinton and Tim Kaine are continuing their three-day bus tour through Pennsylvania and Ohio. (Photo by Justin Sullivan/Getty Images)
The FBI on Friday released its notes from the investigation into Clinton's private email server, which included details from interviews with the former secretary of state. Clinton told the FBI she didn't realize the "C" marking on some of the emails indicated the presence of classified information. There were also multiple instances where Clinton couldn't recall information when asked by investigators.
Raddatz noted how archived emails were even deleted after a congressional committee requested them.
"Don't the American people deserve a better explanation?" she asked.
Kaine claimed Clinton wanted the FBI to release the latest "materials" in order to be transparent with the American people.
"What these notes demonstrate in very significant detail is why the FBI chose not to go forward with any additional proceeding," Kaine said. "She did make a mistake, and she made it by deciding she wanted to use one device rather than multiple devices."
The FBI notes referenced by Kaine actually revealed that there were 13 devices, including mobile devices and 5 iPads, used in connection with Clinton's private email server. Staffers later reportedly destroyed some of the devices using hammers.
Kaine ultimately changed the topic to attack Republican presidential nominee Donald Trump for not releasing his tax returns. He did the same thing a second time when pressed by Raddatz on Clinton's apparent unwillingness to answer questions from the press on the email scandal.
Watch the interview via ABC below:
(H/T: Mediaite)
---