If a number of focus groups run by liberal advocacy organizations are to be believed, Democratic nominee Hillary Clinton may have a hard time winning over young black voters.
"What am I supposed to do if I don't like [Republican nominee Donald Trump] and I don't trust [Clinton]? Choose between being stabbed and being shot? No way!" a woman from Ohio said, according to the New York Times.
Voices like that black millennial woman's show that many younger voters in communities of color are having a hard time supporting the Democratic candidate, even in lieu of Trump.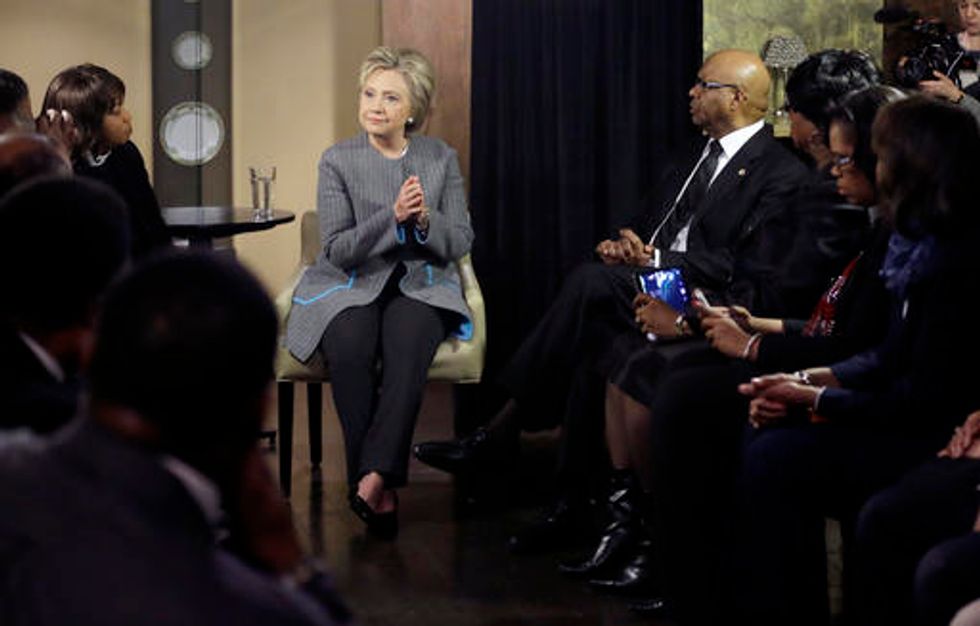 Democratic presidential candidate Hillary Clinton speaks with African American ministers, in Detroit in March. (AP/Carlos Osorio)
"He's a racist, and she is a liar, so really what's the difference in choosing both or choosing neither?" a different young black woman from Ohio said, according to the Times.
Much of the lingering distrust of Clinton stems from a view that the political establishment is not friendly to the needs of young African-Americans, the Times wrote. The former first lady and former Secretary of State is seen as part of that establishment, according to the Times.
And the Black Lives Matter movement has changed many voters' sense of what they want and expect out of their government, the Times reported:
They are demanding more from politicians as part of a new, confrontational wave of black activism that has arisen in response to police killings of unarmed African-Americans.

"We're in the midst of a movement with a real sense of urgency," explained Brittany Packnett, 31, a St. Louis-based leader in the push for police accountability. Mrs. Clinton is not yet connecting, she said, "because the conversation that younger black voters are having is no longer one about settling on a candidate who is better than the alternative."
The margin by which Clinton wins the black vote could have a bearing on the election's outcome.
(h/t: New York Times)