A new poll released Tuesday finds presidential candidates Donald Trump (R) and Hillary Clinton (D) in a dead heat on the morning of the unofficial start to the general election campaign season.
With just months to go until voters pick the next president, a CNN/ORC poll conducted Sept. 1-4 finds that if the election were held today, Trump would win with 45 percent of the vote. Clinton, however, trails by just two points at 43 percent among likely voters, which is within the poll's margin of error of plus or minus 3.5 percent. Third-party candidates Gary Johnson and Jill Stein garner a combined 9 percent.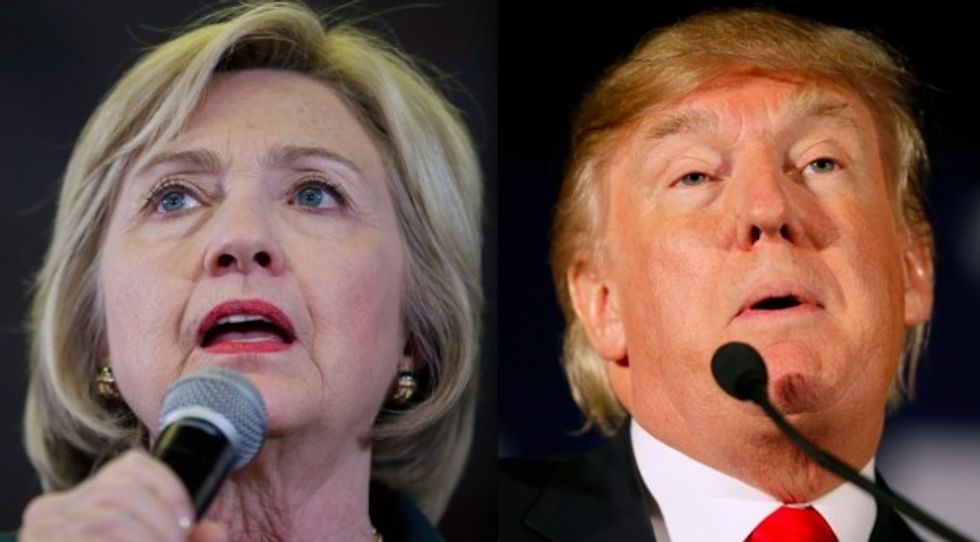 Hillary Clinton and Donald Trump (AP)
"Suppose that the presidential election were being held today and you had to choose between Hillary Clinton and Tim Kaine as the Democratic Party's candidates, Donald Trump and Mike Pence as the Republican Party's candidates, Gary Johnson and Bill Weld as the Libertarian Party's candidates and Jill Stein and Ajamu Baraka as the Green Party's candidates. Who would you be more likely to vote for?" the poll asked.
Those voicing support for any particular ticket were then asked if their mind is "made up" regarding their choice. Thirty-five percent of those who said they support Trump indicated that their mind is "made up." The same percentage of Clinton supporters said the same.
However, when asked who they think will win the election, the majority (59 percent) said Clinton. Just 34 percent said Trump.
(H/T: CNN)
—
Follow the author of this story on Twitter and Facebook: