Republican presidential candidate Donald Trump's campaign will restore the credentials of previously blacklisted media outlets on Thursday, according to CNN.
The Trump campaign says it will approve press credential requests from reporters with outlets such as the Washington Post, BuzzFeed and Politico.
Journalists working for outlets that Trump believed had slighted him were frequently barred from his campaign events. Some reporters were able to attend as members of the public but were not given the access typically granted to members of the media.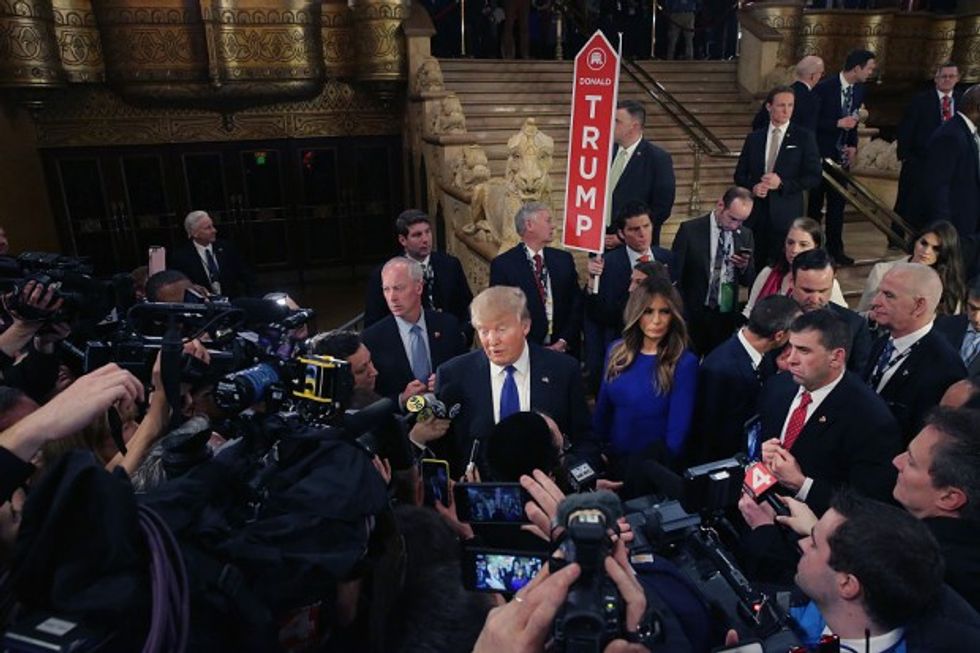 Donald Trump speaks with reporters following a debate March 3 in Detroit. (Chip Somodevilla/Getty Images)
CNN noted that some journalists viewed the blacklist as irksome, while others viewed it as "a badge of honor."
Many observers believed the blacklist had grave implications for freedom of the press and shed light on how a President Trump would behave toward the media.
In a statement to Politico, Washington Post editor Marty Baron said, "Revoking press credentials was imprudent, pointless, and offensive from the start."
"We're pleased to see the ban come to a long-overdue end," Baron continued.
Katherine Miller, politics editor for BuzzFeed, said in a statement provided to Politico, "We're proud of our coverage of Donald Trump and his campaign, and we wouldn't change the way we approach that work regardless of the access we have, but we are happy the blacklist is over."
Sam Stein, senior politics editor for the Huffington Post, told Politico, "While we are glad that the blacklist has been lifted, it's important to remember that this was an absurd policy to begin with and a dangerous precedent for any campaign to have set."
"We will continue to cover the Trump campaign as we have always covered it," he said. "And we look forward to the candidate sitting down for an interview with the Huffington Post in the near future."
In a statement to CNN, Trump said, regarding the restoration of credentials, "I figure they can't treat me any worse!"
—
Follow the author of this story on Twitter and Facebook: