NBC host Matt Lauer fired questions toward Hillary Clinton relentlessly Wednesday night about the Democratic presidential nominee's use of a private email server while at the State Department.
"The word judgment has been used a lot around you, Secretary Clinton, over the last year and a half," Lauer said, "and in particular concerning your use of your personal email and server to communicate while you were secretary of state."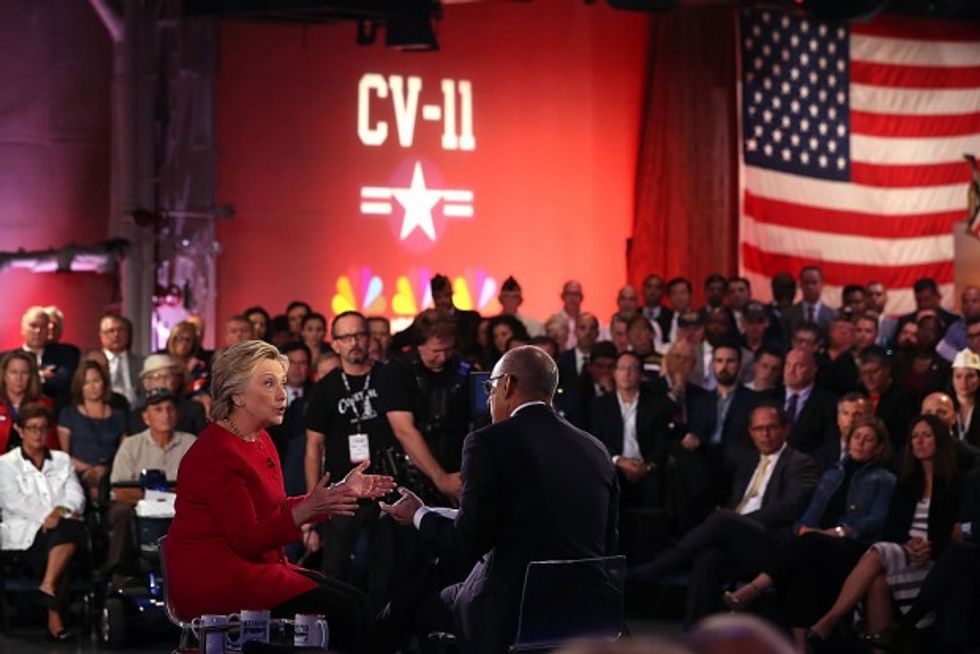 Justin Sullivan/Getty Images
He asked, "Why wasn't it more than a mistake, why wasn't it disqualifying, if you want to be commander in chief?"
Clinton immediately reminded the NBC host of her frequent admission that the decision to use a private email server during her tenure as secretary of state was a "mistake."
"As I have said repeatedly, it was a mistake to have a personal account. I would certainly not do it again," she said. "I make no excuses for it. It was something that should not have been done."
Clinton then turned to her claim that she never handled any information on her private email account that was marked classified — an assertion FBI Director James Comey has said is untrue. Employing a new defense, Clinton said none of the emails she sent or received had a classified "header."
"The real question here is the handling of classified material, which I think is what the implication of your question was," Clinton said. "[I] have a lot of experience dealing with classified material, starting when I was on the Senate Armed Services Committee, going into the four years as secretary of state."
"Classified material has a header, which says, 'Top Secret,' 'Secret,' 'Confidential,'" she continued. "Nothing, and I will repeat this and this is verified in the report by the Department of Justice — none of the emails sent or received by me had such a header."
But Lauer pressed further, asking Clinton if some of the emails pertained to the U.S.'s "covert drone program," which she said was, in fact, the case.
However, the Democratic candidate said there were "no discussions of any of the covert actions in process being determined about whether or not to go forward."
When the NBC anchor asked Clinton if she thought her discussion of the drone program on her private server was "routine," Clinton noted that the FBI's notes on its email investigation "discussed drone matters in the unclassified section of the report."
"But Director Comey also said this, after reviewing all the information, 'There is evidence to support a conclusion that any reasonable person in Secretary Clinton's position should have known that an unclassified system was no place for that conversation,'" Lauer said.
Clinton told him there are "hundreds" of foreign policy experts who communicated on an unclassified system.
Watch the exchange below:
—
Follow the author of this story on Twitter: