Throughout most of a forum on national security Wednesday night, Hillary Clinton was on defense. That was perhaps most evident when she was questioned by a veteran on her use of a private email server during her time as secretary of state.
"As a Naval flight officer, I held a top-secret, sensitive, compartmentalized information clearance and that provided me access to materials and information highly sensitive to our war-fighting capabilities," the veteran told the Democratic presidential nominee. "Had I communicated this information not following prescribed protocols, I would have been prosecuted and imprisoned."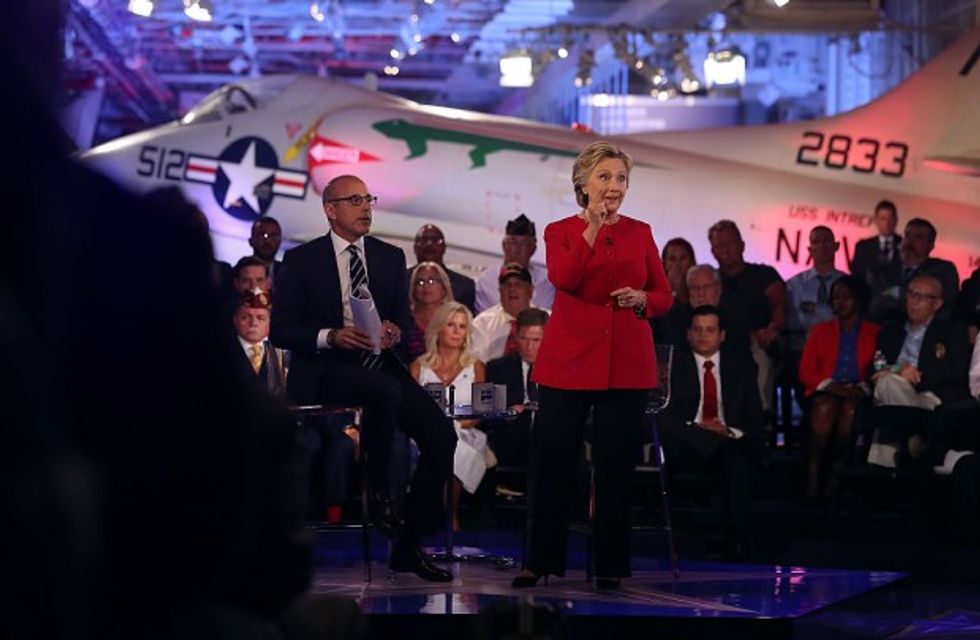 Justin Sullivan/Getty Images
After a brief hesitation, he asked Clinton this question: "How can you expect those such as myself, who were and are entrusted with America's most sensitive information, to have any confidence in your leadership as president, when you clearly corrupted our national security?"
As soon as he finished the question, and looked back up from his notecard, Clinton sternly told the veteran she "appreciated" his inquiry, but then argued she handled no classified information because none of the emails on her private account had a "header" marking them as such.
"You know and I know, classified material is designated, it is marked, there is a header so that there is no dispute at all that what is being communicated to or from someone who has that access is marked classified," Clinton told the veteran.
She went on to tell him that she, along with "hundreds" of others, were using an unclassified system to send information that "was not marked." The former secretary of state said she used a different system for transmitting classified information.
After concluding its investigation into Clinton's use of a private email server, FBI Director James Comey said the Democratic candidate was "extremely careless" in her handling of classified information. Additionally, during a hearing earlier this summer, Comey told Rep. Trey Gowdy (R-S.C.) that it is "not true" that Clinton did not receive classified information on her private account.
Watch the tense exchange below:
Navy vet asks Clinton how she expects those with access to classified info to trust her as president #NBCNewsForumhttps://t.co/4vxgBhRqgU

— MSNBC (@MSNBC) September 8, 2016
—
Follow the author of this story on Twitter: