Democratic presidential nominee Hillary Clinton's campaign press secretary Brian Fallon told MSNBC's Andrea Mitchell Monday that the campaign will release additional information about the candidate's health in the coming days.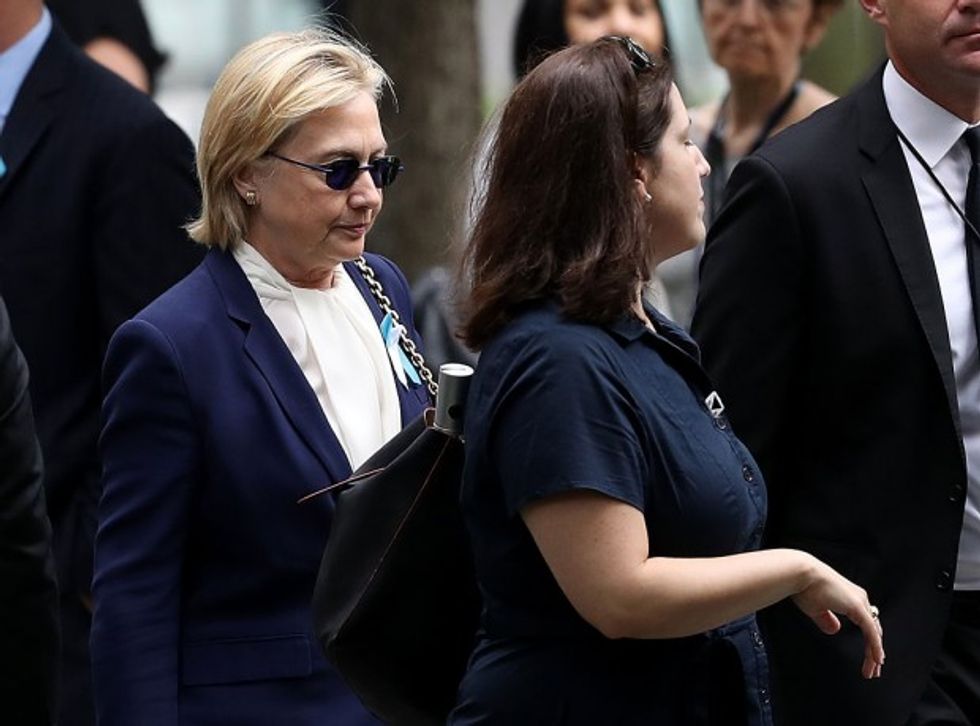 Democratic presidential nominee Hillary Clinton arrives at the National September 11 Memorial & Museum in New York City Sunday. Clinton left the commemoration early. (Justin Sullivan/Getty Images)
Fallon said that the campaign has "been in touch" with Clinton's physician, adding, "It is our intention that in the next couple of days we're going to be releasing additional medical information about Hillary Clinton."
"We're going to be releasing that to further put to rest any lingering concerns about what you saw yesterday," Fallon said. "I can attest, Andrea, that it really is the case that there is no other undisclosed condition. The pneumonia is the extent of it. And I can also attest that her doctor has stated that there was nothing here in terms of anything that was caused by what happened in 2012. So all of that, I think, will be indicated in the further material that we are going to release later this week."
Fallon's remarks follow the release of a video that shows Clinton struggling to walk as she left a memorial service to mark the 15th anniversary of the Sept. 11 attacks.
The campaign initially said that the former secretary of state became "overheated" during the ceremony and later announced that she had been diagnosed with pneumonia on Friday.
Fallon said that in spite of her diagnosis, Clinton was "dead set" on attending the service, but he acknowledged that the campaign "could have handled it better, in terms of providing more information more quickly."
"In those 90 minutes, we were putting a priority on making sure she was okay," he said. "I should say that as soon as she got into the vehicle she was alert the whole time and was telling staff that she was fine. She was actually making calls to aides from the car. And she ended up going to her daughter Chelsea's apartment, which was close by, in Manhattan."
According to Fallon, Clinton "was seen chasing her granddaughter around the apartment at Chelsea's apartment just a few moments after leaving that ceremony site."
"But I do think that in those 90 minutes that elapsed, we could have gotten more information out more quickly and that's on the staff," he continued. "That's on us and we regret that."
He also addressed Clinton's decision to cancel a trip to California, saying that "if it was up to her, she would be traveling to California today."
"But it was her doctor's advice for her to change her schedule. So we're going to be down the next two days," Fallon said. "She's going to take this opportunity to rest."
—
Follow the author of this story on Twitter and Facebook: