WASHINGTON — Republican vice presidential nominee Mike Pence responded to questions from reporters during a press conference in Washington, D.C., Tuesday regarding his refusal to call former Ku Klux Klan Grand Wizard David Duke "deplorable" during a Monday interview on CNN.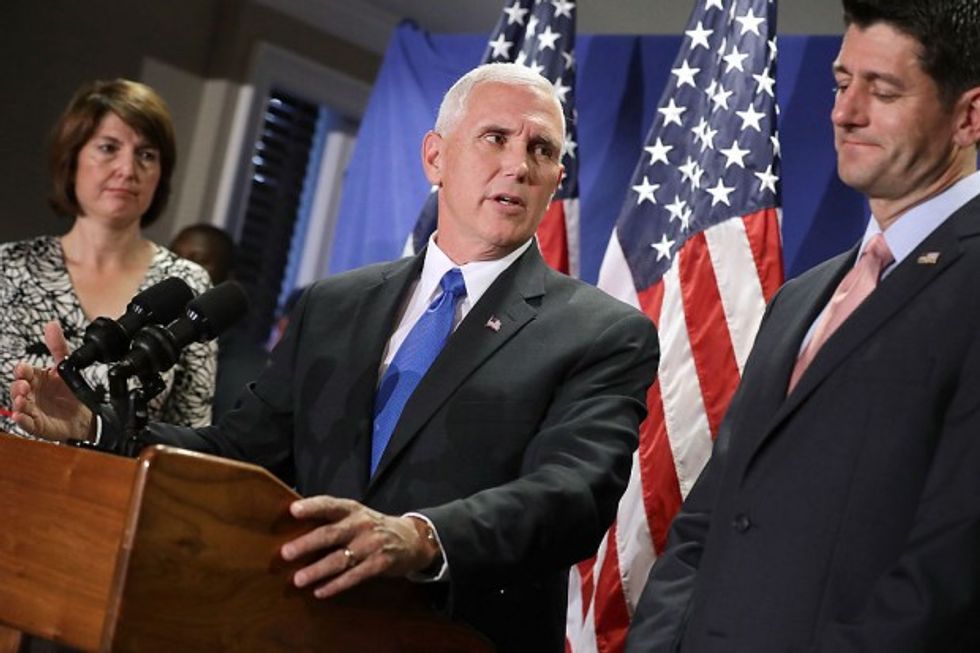 Republican vice presidential nominee Mike Pence answers reporters' questions during a news conference with Speaker of the House Paul Ryan (R-Wis.) and Rep. Cathy McMorris Rodgers (R-Wash.) Tuesday. (Chip Somodevilla/Getty Images)
On Monday, the Indiana governor refused to call Duke "deplorable" while speaking with CNN's Wolf Blitzer.
"There are some supporters of Donald Trump and Mike Pence who ― David Duke, for example, some other white nationalists ― who would fit into that category of 'deplorables,' right?" Blitzer asked, referring to Democratic nominee Hillary Clinton's now-famous "basketful of deplorables" comment.
Pence replied that he had his running mate have both denounced Duke's support: "We don't want his support, and we don't want the support of people who think like him."
Blitzer pressed Pence on if he'd call Duke, a Louisiana candidate for Senate, a "deplorable," Pence said, "No I'm not in the name-calling business."
Mike Pence declines to call Donald Trump supporter David Duke "deplorable" https://t.co/D6fuQRolmg https://t.co/S1nfCf8Iyy

— CNN (@CNN) September 12, 2016
Pence told reporters Tuesday that he refused to call Duke deplorable because he will not "validate the language Hillary Clinton used to describe the American people."
Asked to clarify his refusal, Pence pivoted to Clinton's characterization of "millions of Americans" as "deplorables":
I think millions of Americans are shocked and saddened to see Hillary Clinton refer to people across this country as a "basket of deplorables" in a prepared speech in front of wealthy donors in New York City on Friday night. She said at the time that half of the people supporting Donald Trump were irredeemable and were not Americans. And frankly, I've never heard a major party candidate in the United States speak about the American people in such terms.
"Her remarks were deeply insulting to sincere people all across this country," he continued.
"Donald Trump and I have denounced David Duke repeatedly," Pence continued. "We have said we do not want his support or the support of people who think like him. Yesterday, I was asked a question about that, and I repeated it," Pence said.
He added that he thinks the American people know that Clinton "wasn't talking about that bad man" but people "all across this country" who support the Trump campaign.
Clinton responded to Pence's CNN interview on Twitter:
If you won't say the KKK is deplorable, you have no business running the country. https://t.co/mFut8Qrz9A

— Hillary Clinton (@HillaryClinton) September 12, 2016
Duke told BuzzFeed News, "It's good to see an individual like Pence and others start to reject this absolute controlled media," and noted that he has a "perfect Republican voting record" and that the GOP is a "big tent."
"It's ridiculous that they attack me because of my involvement in that nonviolent Klan four decades ago," Duke added.
Watch Pence's remarks below:
.@Mike_Pence on Hillary Clinton's ""Basket of Deplorables" remarks and on David Duke. pic.twitter.com/pYSiMm3YTZ

— CSPAN (@cspan) September 13, 2016
—
Follow the author of this story on Twitter and Facebook: