In an official statement Thursday night, Donald Trump's campaign said the Republican presidential nominee believes President Barack Obama was born in the United States.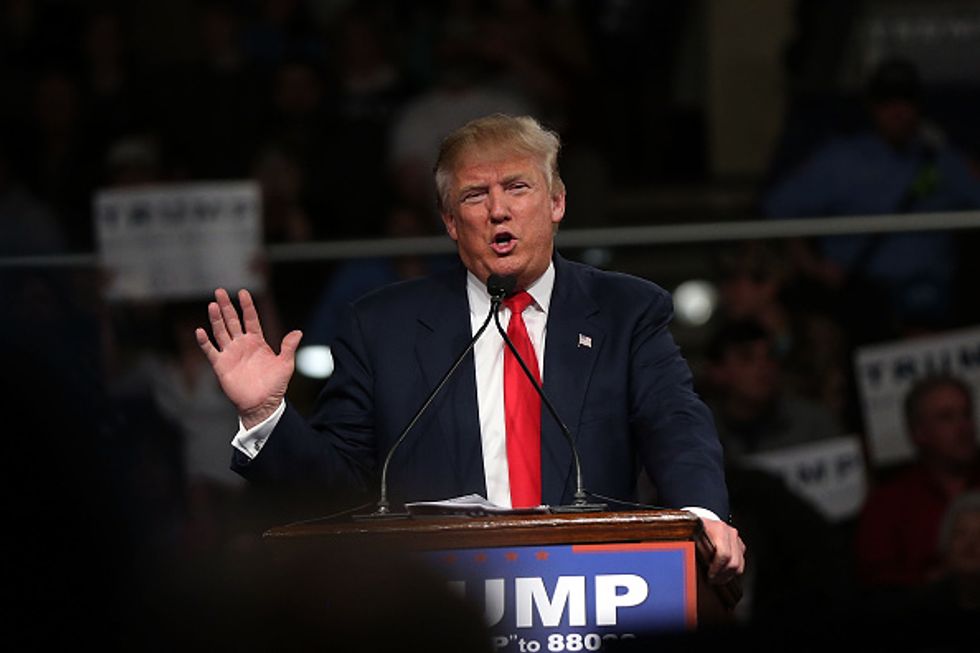 Spencer Platt/Getty Images)
While Trump himself has yet to admit the commander in chief was born in the country, the statement marks a reversal from a viewpoint the billionaire businessman held five years ago, when the so-called birther movement rose to national prominence.
The statement came from Jason Miller, Trump's senior communications advisor:
In 2011, Mr. Trump was finally able to bring this ugly incident to its conclusion by successfully compelling President Obama to release his birth certificate. Mr. Trump did a great service to the President and the country by bringing closure to the issue that Hillary Clinton and her team first raised. Inarguably, Donald J. Trump is a closer.
Miller said the way in which Trump carried out the matter proves he is "a closer" because the real estate developer "successfully obtained President Obama's birth certificate when others could not."
"Mr. Trump believes that President Obama was born in the United States," the statement reads.
The campaign is arguing Trump was able to do what others were unable to do by suggesting it was Clinton who first raised the issue of Obama's birthplace in what Miller described as "smear" of the then-candidate.
The spokesman said the attack on Obama's nativity is "vicious and conniving," but then asserted Clinton was "too weak to get an answer," so Trump had to pick up the issue.
The suggestion that Clinton was the first to raise the matter stems from a 2008 interview on "60 Minutes" when she said she took Obama at his word that he was not a Muslim. When pressed if she believed he was Muslim, Clinton said, "No. No, there is nothing to base that on — as far as I know."
She was not questioning Obama's birthplace.
Earlier Thursday, in an interview with the Washington Post, Trump was given the opportunity to reverse his position on the birther issue, but he declined to do so.
"I'll answer that question at the right time. I just don't want to answer it yet," he said.
When the Post's Robert Costa pressed Trump further, asking if it was accurate when campaign manager Kellyanne Conway said he now believed Obama was born in the U.S., the GOP candidate said, "It's okay. She's allowed to speak what she thinks."
"I want to focus on jobs. I want to focus on other things," he added.
—
Follow the author of this story on Twitter: