In an interview with NBC News' "Meet the Press" set to air Sunday, former Republican presidential candidate Ohio Gov. John Kasich said that "it's very, very likely I will not" vote for Republican presidential nominee Donald Trump.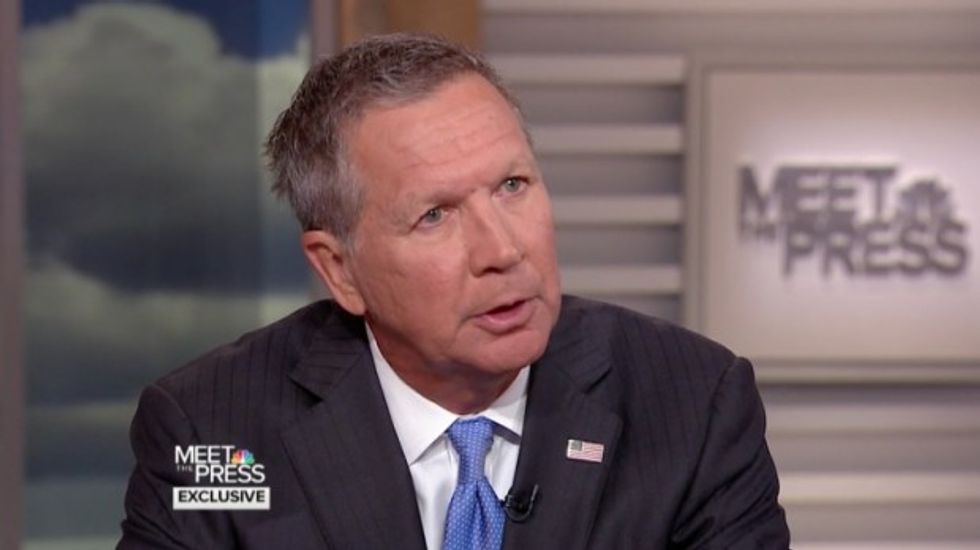 Ohio Republican Gov. John Kasich (Image source: NBC News)
In a preview of the interview published by NBC News, Kasich said he will not vote for Democratic presidential nominee Hillary Clinton but also that "I'm no closer" to voting for Trump.
"I mean, there's too much water under the bridge," he said.
Host Chuck Todd asked Kasich, "Why do you leave the door unlocked?"
"Because it's just too early to make, you know, a statement like that," Kasich replied. "But I'm just not doing it today on 'Meet the Press.' I'll do it when I want to do it."
"But why shut the door on Hillary Clinton already and not shut the door on Donald Trump?" Todd pressed.
"Well, because I'm a Republican," Kasich said, adding, "Look, it is country first. And I am unlikely to cast that vote. The chances are miniscule."
—
Follow the author of this story on Twitter and Facebook: