Republican National Committee Chairman Reince Priebus said Sunday that GOP candidates who ran against party nominee Donald Trump and lost could face penalties in future political races if they don't endorse Trump.
Priebus' comments were directed at those who have yet to pledge their support for the billionaire businessman, which includes Texas Sen. Ted Cruz, Ohio Gov. John Kasich and former Florida Gov. Jeb Bush.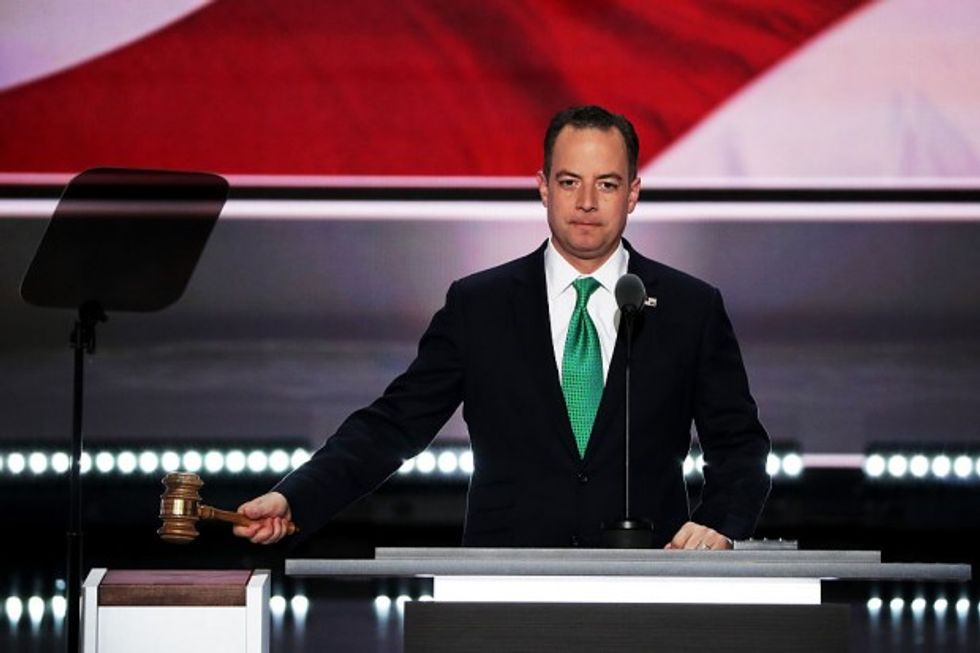 RNC Chairman Reince Priebus. (Getty Images/Alex Wong)
"People who agreed to support the nominee, that took part in our process, they used tools from the RNC. They agreed to support the nominee, they took part in our process," Priebus said on CBS's "Face the Nation."
"We're a private party. We're not a public entity," he added. "Those people need to get on board."
"And if they're thinking they're going to run again someday, I think that we're going to evaluate the process – of the nomination process and I don't think it's going to be that easy for them," the chairman went on to say.
[sharequote align="center"]"We're a private party. We're not a public entity. Those people need to get on board."[/sharequote]
When pressed on whether or not the RNC would penalize those candidates in future races, Preibus said it was something the party will "look at."
All GOP candidates last year signed a pledge to support the eventual party nominee after early grumblings from the Trump campaign about the possibility that he would run as a third party candidate if he did not secure the GOP nomination.
But Priebus said there could even be potential ballot issues in future elections for a candidate who doesn't support Trump.
"People in our party are talking about what we're going to do about this," Priebus said. "There is a ballot access issue in South Carolina. In order to be on the ballot in South Carolina, you actually have to pledge your support to the nominee, no matter who that person is. What's the penalty for that? It's not a threat. It's just a question that we have a process in place."
"And if a private entity puts forward a process and has agreement with the participants in that process, and those participants don't follow through with the promises that they made in that process, what-- what should a private party do about that if those same people come around in four or eight years?" he went on to say.
In response, Kasich's chief political strategist John Weaver released a statement Sunday afternoon saying that Kasich is putting "principles before politics" in his lack of a Trump endorsement.
"Throughout his life, Governor John Kasich has always made decisions based on what is best for our country. The idea of a greater purpose beyond oneself may be alien to political party bosses like Reince Priebus, but it is at the center of everything Governor Kasich does," the statement read. "He will not be bullied by a Kenosha political operative that is unable to stand up for core principles or beliefs."
"In fact, Reince should be thanking the Governor for standing for an inclusive, conservative vision that can actually win a national election and improve our country. The Governor is traveling the nation supporting down ballot Republicans and preventing a potential national wipeout from occurring on Reince's watch," it added.
It is not clear if the Bush or Cruz camps have responded to Priebus' comments. TheBlaze will reach out and update should we receive a response.
Watch his interview below:
—
Follow the author of this story on Twitter and Facebook:
[facebook //www.facebook.com/plugins/like.php?href=