At least five people were taken into custody Sunday night in possible connection to the New York City explosion that injured 29 people.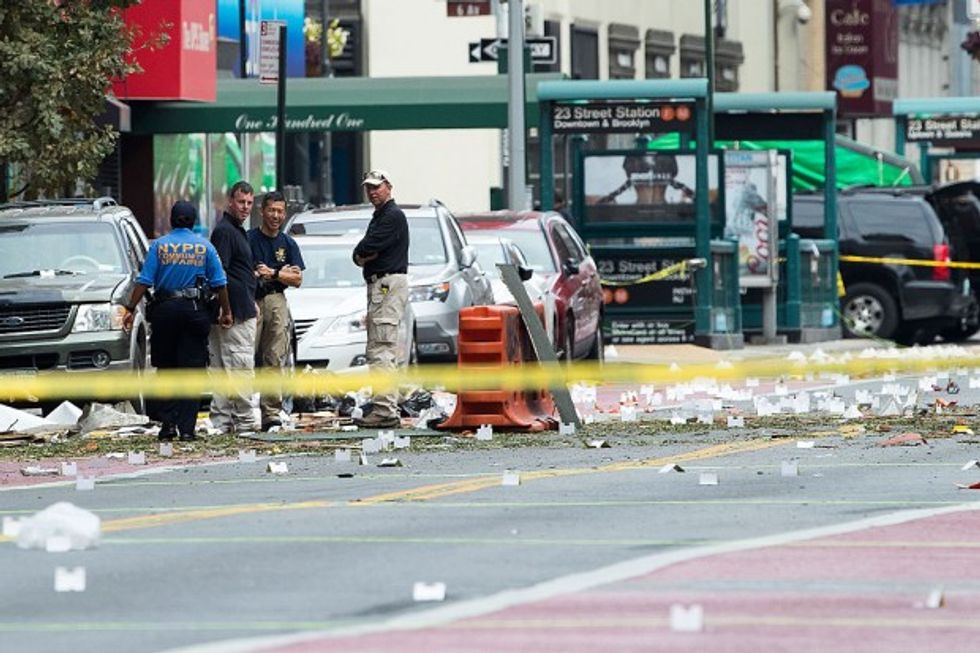 Law enforcement officials work at the scene of Saturday night's explosion in the Chelsea neighborhood of Manhattan, Sept. 18, 2016. (Getty Images/Drew Angerer)
ABC News reported the FBI and NYPD made a traffic stop on the Verrazano–Narrows Bridge, which connects New York City's Staten Island to Brooklyn.
The individuals were traveling to the airport, according to the New York Post reported
The FBI's New York field office confirmed the stop in a later tweet, but said that no one had been charged with a crime.
We did a traffic stop of a vehicle of interest in the investigation. No one has been charged with any crime. The investigation is continuing

— FBI New York (@NewYorkFBI) September 19, 2016
The five individuals were reportedly traveling in an SUV from Staten Island to Brooklyn on the Belt Parkway. According to the New York Daily News, weapons were found inside of the vehicle. Three pipe bombs and two unknown devices were also discovered Sunday night at a train station in Elizabeth, New Jersey, prompting Amtrak delays and closures along the system's busiest corridor.
LIVE on #Periscope: Amtrak train #2228 stopped somewhere short of Newark, NJ https://t.co/qfODDvAfQK

— Mike Opelka (@stuntbrain) September 19, 2016
Elizabeth Mayor Christian Bollwage told NJ.com that a shuttle would transport passengers north and south of the station that is currently shut down. Bollwage said police used a drone to inspect the package, which the flying object indicated "could be a live bomb."
The FBI and New Jersey State Police are on the scene to check for further evidence and determine how to safely remove the object.
This comes just 24 hours after an explosion on W. 23rd St. in New York City's Chelsea neighborhood injured 29 people Saturday night. That explosion was accompanied by the discovery of a pressure cooker blocks away. Police are now analyzing the possible evidence.
Authorities now say that the New York City explosion may be linked to the pipe bomb that went off in Seaside Park, New Jersey, earlier Saturday, where a Marine 5k charity run was taking place.
(H/T: ABC News)
—
Follow the author of this story on Twitter and Facebook: