Investigators are exploring the possibility that the explosions in New York City and New Jersey over the weekend are connected to the same person or persons, multiple law enforcement sources told ABC News Sunday.
According to ABC, both the pipe bomb in N.J. and the bomb that exploded in Midtown Manhattan Saturday evening had cell phones attached to them. Law enforcement sources also told the news agency that the second device found by NYC authorities also had a phone attached to it. That device, a pressure cooker, did not detonate.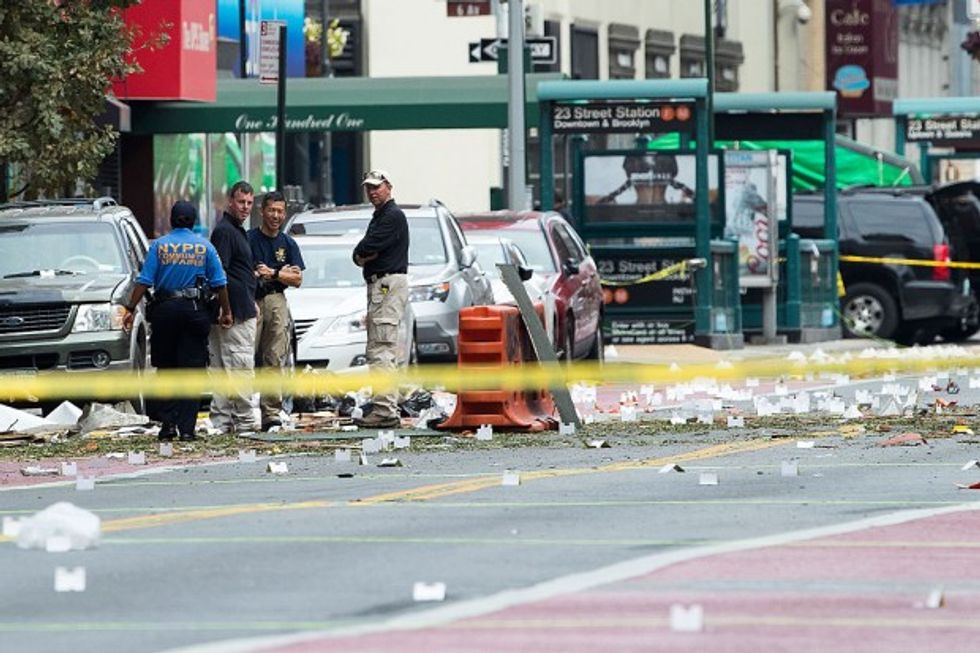 Law enforcement officials work at the scene of Saturday night's explosion in the Chelsea neighborhood of Manhattan, Sept. 18, 2016. (Getty Images/Drew Angerer)
However, the investigations remain separate, the sources said, and their probe into whether or not the explosions are connected is merely a line of inquiry.
"Just because you have one thing in common, doesn't mean the devices are similar," one source told ABC.
During his press conference earlier Sunday, New York Gov. Andrew Cuomo said the two devices in NYC — the exploded device and the undetonated pressure-cooker device found nearby — were similar to one another, according to CNN.
The New York City explosion happened around 8:30 p.m. Saturday in the busy Chelsea neighborhood, injuring 29. All those injured have since been released from the hospital.
The N.J. pipe bomb that exploded early Saturday morning was placed in a garbage can along the route of a Marine charity run. Fortunately, no one was injured in the blast. However, investigators have since found two other devices in the same area, neither of them detonating.
Both explosions remain under investigation by local, state and federal authorities.
—
Follow the author of this story on Twitter and Facebook:
[facebook //www.facebook.com/plugins/like.php?href=