Sen. Elizabeth Warren (D-Mass.) called on Wells Fargo CEO John Stumpf to resign during a Senate Banking Committee hearing Tuesday over allegations of widespread fraud at the bank.
According to the Associated Press, Wells Fargo employees allegedly opened millions of unauthorized accounts for customers in order to meet aggressive quotas set by executives at the company. Employees are accused of transferring money to these accounts — as well as issuing debit cards and PINs — without customers' authorization or knowledge. They are also accused of falsifying email addresses associated with the new accounts.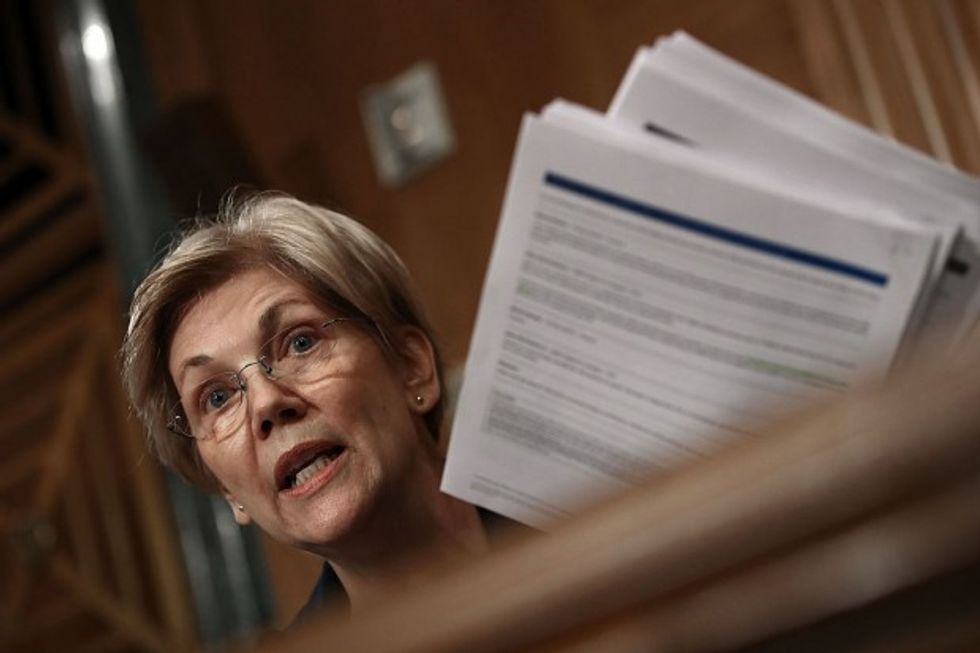 Sen. Elizabeth Warren (D-Mass.) questions John Stumpf, chairman and CEO of Wells Fargo, during a Senate Banking Committee hearing in Washington, D.C., Tuesday. (Win McNamee/Getty Images)
At the hearing, Warren grilled Stumpf over his claim that he will be "accountable" for wrongdoing at Wells Fargo.
"You haven't resigned, you haven't returned a single nickel of your personal earnings, you haven't fired a single senior executive," she said. "Instead — evidently — your definition of 'accountable' is to push the blame to your low-level employees who don't have the money for a fancy PR firm to defend themselves. It's gutless leadership."
Warren accused Stumpf of personally profiting from pushing employees to increase the number of accounts held by individual customers:
But you squeezed your employees to the breaking point so they would cheat customers, and you could drive up the value of your stock and put hundreds of millions of dollars in your own pocket. And when it all blew up, you kept your job, you kept your multi-million-dollar bonuses, and you went on television to blame thousands of $12-an-hour employees who were just trying to meet cross-sell quotas that made you rich. This is about accountability. You should resign.
Warren added that Stumpf "should be criminally investigated by both the Department of Justice and the Securities and Exchange Commission."
—
Follow the author of this story on Twitter and Facebook: