Donald Trump proposed nationwide "stop-and-frisk" police measures to combat violence in black communities during the taping of a Fox News town hall focused on "core black issues," the network reported Wednesday.
"I would do stop-and-frisk," the Republican presidential nominee reportedly said in response to an audience member's question about "black-on-black" crime. "I think you have to."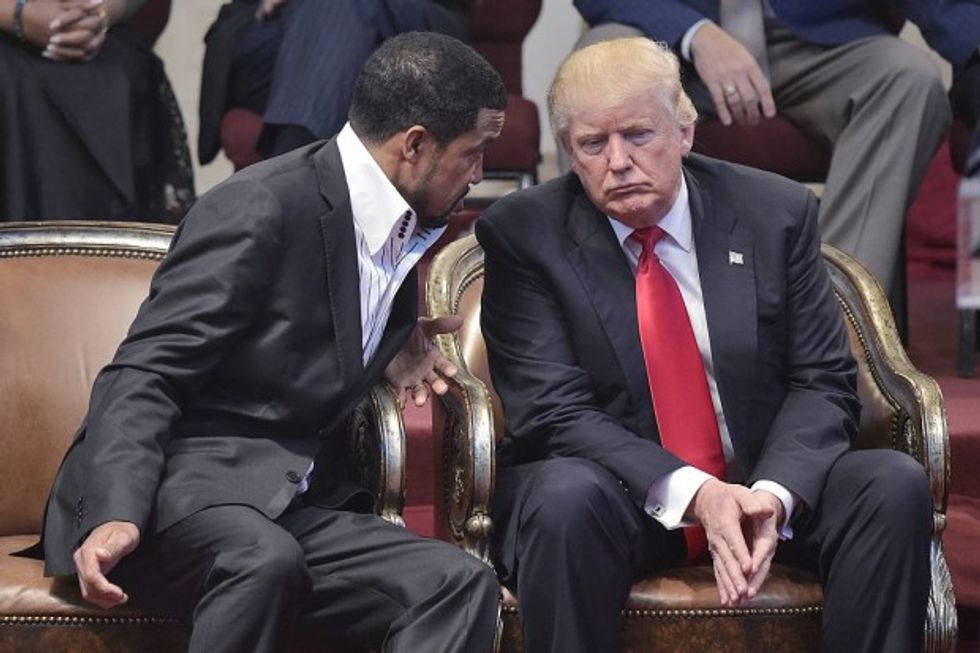 Republican presidential nominee Donald Trump listens to pastor Darrell Scott duing the Midwest Vision and Values Pastors and Leadership Conference at the New Spirit Revival Center in Cleveland Heights, Ohio, on Sept. 21, 2016. (MANDEL NGAN/AFP/Getty Images)
"We did it in New York," he continued. "It worked incredibly well, and you have to be proactive and — you know — you really help people sort of change their mind automatically."
The stop-and-frisk policy, a controversial practice most memorably carried out in New York City, allows law enforcement officers to stop people who look suspicious of criminal activity and pat them down. The process was expanded under former New York City Mayor Michael Bloomberg, but was deemed unconstitutional in 2013 by the Federal District Court in Manhattan.
Judge Shira A. Scheindlin, who presided over the ruling, said in her decision that the tactic encouraged police to stop "blacks and Hispanics who would not have been stopped if they were white."
However, Trump stood by the "stop-and-frisk" policy during the town hall, calling it "incredible."
News of the proposal comes the same day boxing promoter Don King, who is black, used a racial slur in describing his support of Trump's candidacy.
The Trump town hall will be hosted by Fox anchor Sean Hannity and is scheduled to air during his 10 p.m. program Wednesday.
NEW - @realDonaldTrump tells @seanhannity tonight on @FoxNews he'd use stop-and-frisk to end violence in black communities pic.twitter.com/BMxisvTF3p

— Chris Snyder (@ChrisSnyderFox) September 21, 2016
–
Follow the author of this story on Twitter: