Carolina Panthers quarterback Cam Newton responded Wednesday to the fatal police shooting of 43-year-old Keith Lamont Scott, calling on protesters not to be "hypocrites."
Charlotte has experienced protests the last two nights following Scott's death, some of which have turned violent. But Newton, who lives in Charlotte, urged fans to not give in to bias on either side but to maintain a clear view of all of the facts.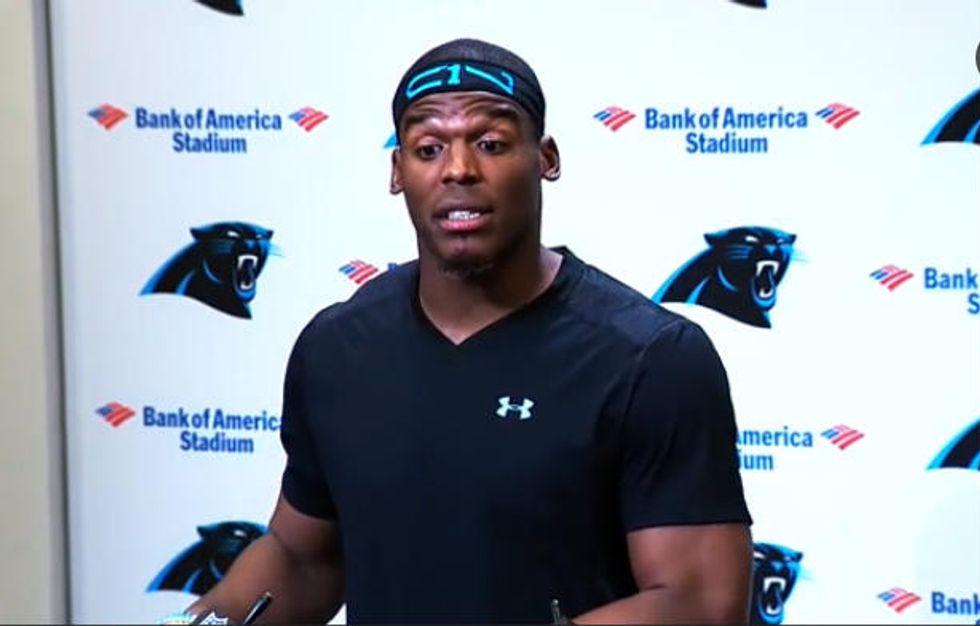 Carolina Panthers quarterback Cam Newton (Image source: WCCB-TV)
On the topic of police shootings in general, Newtown distinguished between the shootings themselves and communities' responses to them. He further emphasized that he wants to use his platform to encourage justice but noted that sometimes it's a "lose-lose" for him.
"I know the place that I stand, sometimes it's a lose-lose. You say something in one sense, and everybody's saying you're a traitor. You say something in another sense, and they're saying, 'Oh, he's just too real,'" Newton said. "So I'm in a position now where, if I say something, it's going to be critiqued, and if I don't say something, 'Oh, you fake or you flawed.'"
With that acknowledgement, Newton offered his take on the Charlotte unrest, which resulted in sustained injuries to at least 12 police officers.
"I know from being a black person, it's a lot of black people that don't do right by black people. So you can't be a hypocrite and just say, 'Oh, well, a white man or a white police officer killed a black man,'" Newton said.
"Now, that's still messed up. I'm not sitting up here saying that it's OK. I'm just saying we just still gotta be, you know, have clear-eyed vision on both sides. And it starts with everybody holding each other accountable and policing yourselves," Newton added.
(H/T: WCCB-TV)
—
Follow the author of this story on Twitter and Facebook: