While both presidential nominees would significantly add to the nation's debt with their budget proposals, Republican Donald Trump would increase it drastically more than his Democratic rival, Hillary Clinton, according to a recent think tank report.
The nonpartisan Committee for a Responsible Federal Budget's analysis estimated that Clinton's plans would increase the U.S. debt by $200 billion over 10 years. In comparison, Trump's plans are projected to hike the national debt by $5.3 trillion over the same time period.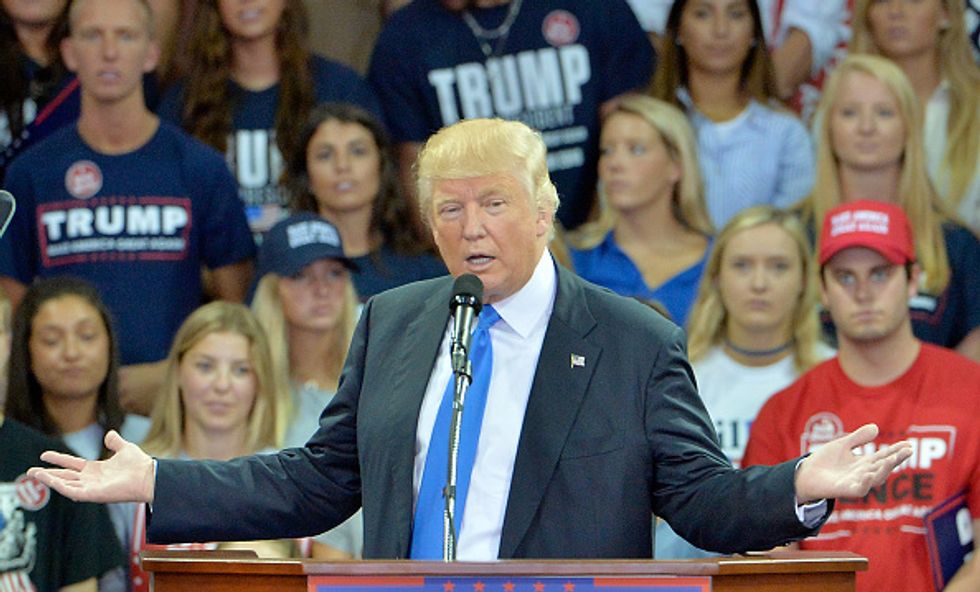 Republican presidential nominee Donald Trump speaks during a campaign event at High Point University in North Carolina. (Getty Images/ Sara D. Davis)
But while Trump's proposals generate the highest national debt projection from CRFB, the estimate is actually lower than it was three months ago, when the D.C.-based group found that his proposals would raise the debt by $11.5 trillion.
At that time the committee estimated that Clinton's proposals would raise the debt by $250 billion, according to June's "Promises and Price Tags" publication.
"We continue to estimate that Clinton would add modestly to the debt relative to current law, while Trump would add significantly to the debt," the current report stated. "Both Clinton and Trump have presented less costly plans, with Clinton's plan slightly less costly than in June … and Trump's plan significantly less expensive."
The decrease in the projections of Clinton's proposals' costs came after her campaign shared with the committee certain revenue increases that would occur under her presidency.
Trump's lower debt-impact estimates came after he "proposed substantial changes and additions to his overall agenda," including his tax reform plan, CRFB said. However, as specific details of Trump's tax plan still have not been made clear, the organization said it had take a  "mid-range guess" when estimating its costs.
The report found:
Unfortunately, both candidates' plans to increase the debt come on top of current law projections that already estimate debt to grow by $9 trillion over the next decade. As a result, under Clinton's plans debt would grow from nearly 77 percent of GDP today to over 86 percent by 2026; under Trump's plans, debt would grow to 105 percent of GDP by 2026. This relies on conventional scoring methods and does not account for the impact of their plans on economic growth.
The committee criticized both candidates for taking "large parts of the budget and tax code off the table" by either explicitly or implicitly ruling out net savings from changes to defense spending and entitlements such as Social Security.
"We are encouraged that Clinton continues to largely pay for her new spending and that Trump has made substantial improvements to his plan, including a less costly tax plan and new spending cuts," the report stated.
However, the report said that neither Trump nor Clinton has adequately presented a plan to tackle the growing national debt or solidifying Social Security or Medicare trust funds.
—
Follow Kaitlyn Schallhorn (@K_Schallhorn) on Twitter