Texas Republcan Sen. Ted Cruz, a former presidential candidate and one of GOP nominee Donald Trump's chief campaign rivals, officially threw his support behind the Republican nominee Friday.
In a lengthy Facebook post Friday afternoon, Cruz said that he will cast his vote in November for Trump after "many months of careful consideration, of prayer and searching [his] own conscience."
"I've made this decision for two reasons. First, last year, I promised to support the Republican nominee. And I intend to keep my word," Cruz said. "Second, even though I have had areas of significant disagreement with our nominee, by any measure Hillary Clinton is wholly unacceptable — that's why I have always been ['Never Hillary']."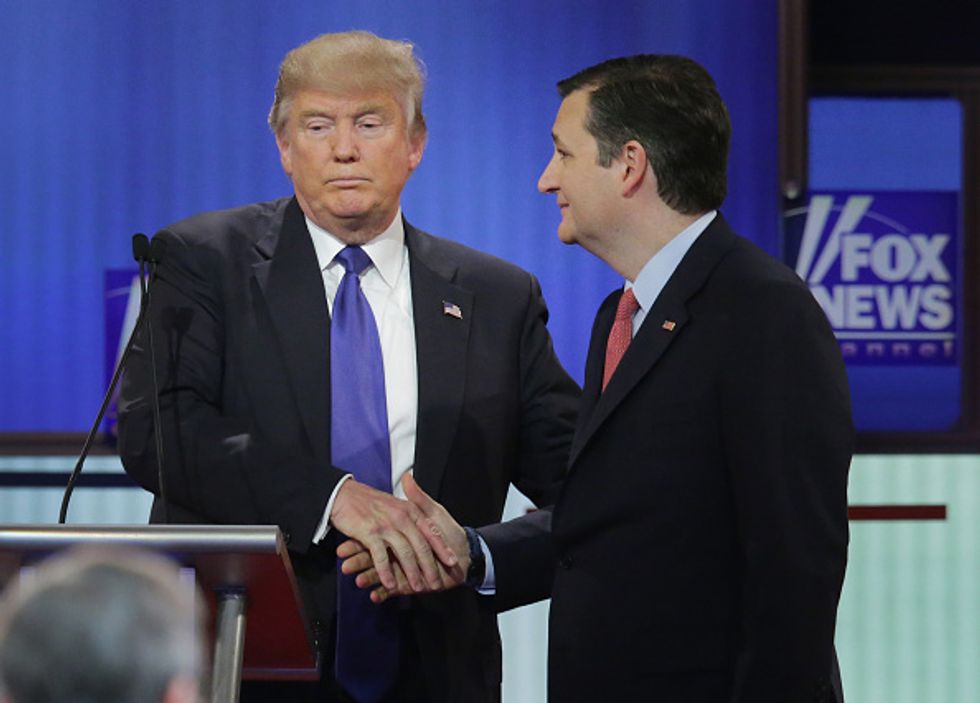 Republican presidential nominee Donald Trump and Sen. Ted Cruz greet each following a debate in March. (Getty Images/Chip Somodevilla)
The Texas senator continued to lay out the "six key policy differences" that informed his decision to eventually vote for the man he once referred to as "utterly amoral" and a "pathological liar."
Those policy issues include: the Supreme Court, national security, the Affordable Care Act, immigration, energy and internet freedom.
Signs that the relationship between Cruz and Trump could soften became evident earlier this week when Trump suddenly announced his support for "preserving internet freedom" — a seemingly unprompted announcement that aligned with Cruz's efforts in the Senate. In return, Cruz tweeted out his thanks to Trump.
"Our country is in crisis. Hillary Clinton is manifestly unfit to be president, and her policies would harm millions of Americans. And Donald Trump is the only thing standing in her way," Cruz said Friday.
The relationship between Cruz and Trump during the 2016 campaign season can only be described as tumultuous at best as the pair traded colossal jabs with one another as they faced off for the GOP presidential nomination. Once upon a campaign trail, Trump peddled an unflattering photograph of Cruz's wife on his Twitter account — which still has not been deleted — and implied that Cruz's father was complicit in former President John F. Kennedy's assassination.
For his part, Cruz declined to offer any endorsement of Trump during the Republican convention in July and instead encouraged Americans to "vote your conscience" — a mantra peddled by the anti-Trump crowd.
While Cruz said Friday that it was the six key factors that helped convince him to support Trump, multiple sources close to the Texas senator and his former campaign told TheBlaze Friday that it was the help of Trump's newest campaign manager Kellyanne Conway who garnered the support of Cruz.
And on Sunday, Republican National Committee Chairman Reince Priebus warned that any former Republican presidential contender who did not support Trump could face repercussions.
Still, many one-time Cruz supporters appeared angered by his decision to support Trump. Conservative commentator Steve Deace released a barrage of tweets Friday to express his displeasure.
I hope I'm wrong, but I think a man I admire will today make the worst political miscalculation I've ever witnessed.

— Steve Deace (@SteveDeaceShow) September 23, 2016
I think it's a disastrous decision for Cruz, but ultimately the people will decide that moving forward. So we will see.

— Steve Deace (@SteveDeaceShow) September 23, 2016
Cruz's onetime chief campaign strategist Jason Johnson simply responded to Politico with a photo of his hand over his face when asked by the publication about a potential endorsement.
A conservative consultant with knowledge of both Cruz's and Trump's presidential campaigns told TheBlaze Friday that the Texas senator was endorsing Trump in order to "salvage his career."
Another GOP source said Friday that should Trump "graciously accept" Cruz's support — he said during the convention that he would not — "it could bring in the Cruz diehards" to the Republican nominee's side.
"For Cruz, I don't see him having a choice other than to endorse if he wants to have a good … working relationship and keep his Senate seat if Trump becomes president," the source said.
Cruz's spokeswoman did not respond to a request for comment from TheBlaze.
Read Cruz's full endorsement below.
This story has been updated.
—
Follow Kaitlyn Schallhorn (@K_Schallhorn) on Twitter