HEMPSTEAD, N.Y. — Democratic presidential nominee Hillary Clinton argued Monday for stricter gun control as in "a lot of places" law enforcement officials are "outgunned."
"Right now, we've got too many military-style weapons on the streets. In a lot of places, our police are outgunned," Clinton said from the debate stage at Hofstra University. "We need comprehensive background checks, and we need to keep guns out of the hands of those who will do harm."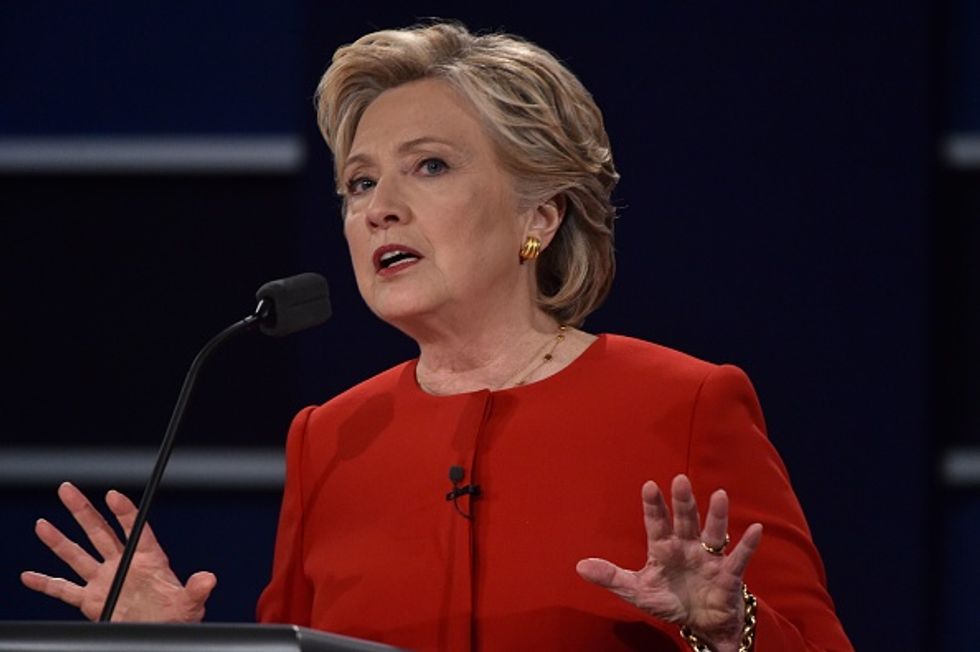 Democratic nominee Hillary Clinton speaks during the first presidential debate at Hofstra University in Hempstead, New York on September 26, 2016. (Getty Images/Paul J. Richards)
Clinton referenced the recent police shootings of black men in Tulsa and Charlotte last week as she argued that trust between minority communities and law enforcement officials needs to be "restored."
"We have to work to make sure that our police are using the best training, the best techniques, that they're well prepared to use force only when necessary," Clinton said. "Everyone should be respected by the law, and everyone should respect the law.
Clinton added, "The gun epidemic is the leading cause of death of young African American men — more than the next nine causes put together."
"So we have to do two things," the former secretary of state continued. "We have to restore trust, we have to work with the police, we have to make sure they respect the communities and the communities respect them. And we have to tackle the plague of gun violence, which is a big contributor to a lot of the problems that we're seeing today."
Republican presidential nominee Donald Trump countered with an argument for the controversial stop-and-frisk practice that was ultimately ruled unconstitutional.
"You take the gun away from criminals that shouldn't be having it," Trump said. "We have gangs roaming the street, and in many cases, they're illegally here, illegal immigrants. And they have guns, and they shoot people, and we have to be very strong, and we have to be very vigilant."
—
Follow Kaitlyn Schallhorn (@K_Schallhorn) on Twitter