On the afternoon before the first 2016 presidential debate, Minority Leader Harry Reid (D-Nev.) took to the Senate floor to decry Republican presidential nominee Donald Trump.
The Nevada Democrat called Trump a "racist" while also blasting the media for using a litany of "buzzwords" to describe the Manhattan billionaire as anything but just that.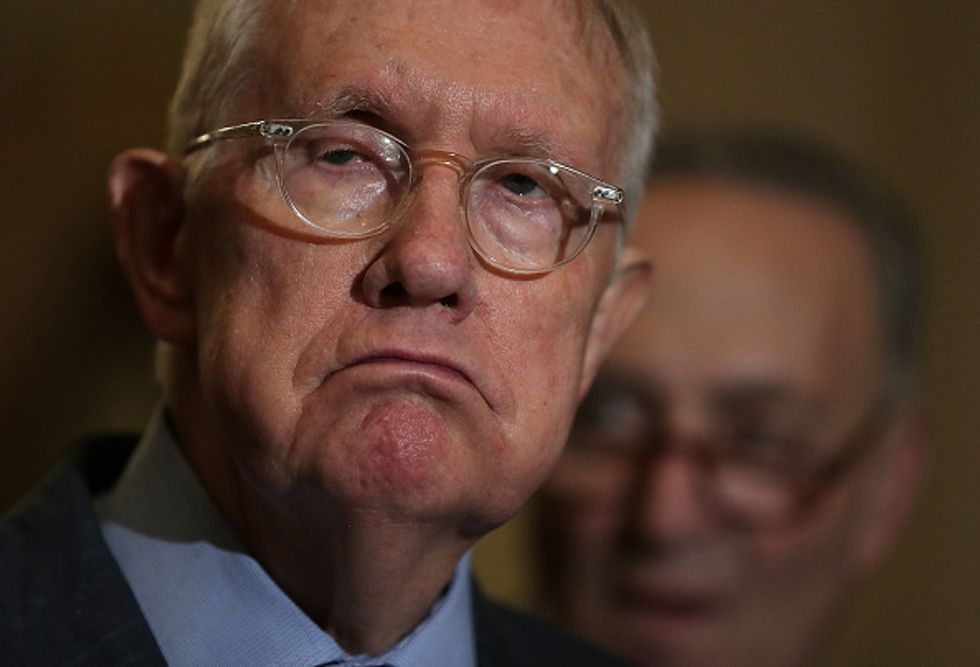 U.S. Senate Minority Leader Sen. Harry Reid (D-Nev.) (Getty Images/Alex Wong)
"Virtually every time Donald Trump says or does something discriminatory — and that's often — the media relies upon a catalog of buzzwords to describe his actions," Reid said Monday. "The press use words like 'hateful,' 'ignorant,' 'bigot,' 'extremist,' 'prejudice,' to name but a few. Yet there's always one word that many of the press conspicuously avoid: racist."
He added, "They never label Trump as a racist, but he is a racist. Donald Trump is a racist."
Reid continued to criticize reporters and pundits for not "holding Trump accountable" and "calling Trump what he is." He detailed instances in Trump's past where he or his company got in trouble for different situations with minorities, such as with the housing discrimination lawsuit in the 1970s and allegations of racism with his Atlantic City casino.
However, Reid said his racism has reached new heights throughout his 2016 presidential campaign, through his criticisms of  the Gold Star family whose Muslim son was killed overseas, and his peddling of the so-called birther movement.
"Republicans are normalizing this racist behavior," Reid charged as he also slammed leading Republicans who have endorsed or support Trump for president. "This will be their legacy."
"Those who refuse to denounce Donald Trump's actions as racism are complicit in propagating and normalizing his hate," he continued. "It's time for Republicans to stop closing their eyes to Donald Trump's racism. And it's time for reporters and journalists to be honest with the American people. They owe America the truth."
The Nevadan said that "racist" isn't a label that he uses to describe people often and differentiates between political incorrectness and racism.
"Donald Trump doesn't believe the racist things he says and does is wrong. He does it will full intent to demean and to denigrate," Reid said. "That's who he is."
Watch Reid's speech from the Senate floor below.
—