Fox News host Bill O'Reilly told Ellen DeGeneres during an interview Monday about his initial reaction when Republican presidential nominee Donald Trump told him he was going to enter the race for the White House.
"He said, 'I'm thinking about running for president,' and I said, 'Of what country?'" O'Reilly said as DeGeneres laughed during the taping of "The Ellen Show."
"I had no idea that he was really, seriously thinking about running for president," O'Reilly continued. "It is a very harsh game, and he has a very thin skin."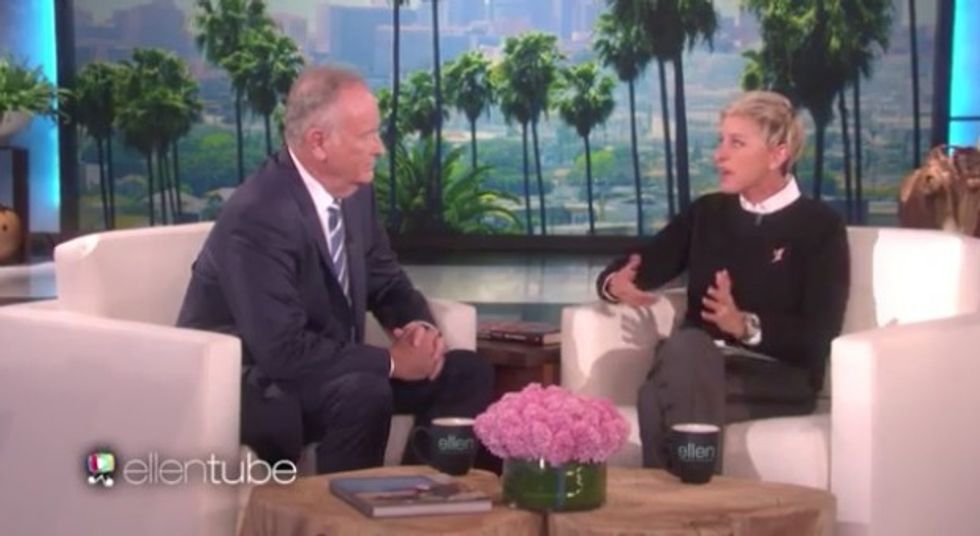 Ellen DeGeneres interviews Fox News' Bill O'Reilly (Image source: YouTube)
O'Reilly added that he doesn't see Trump as "some sort of irresponsible crazy man," admitting, though, that he "could be wrong."
While the two television personalities discussed the 2016 election, DeGeneres, a supporter of Democratic presidential nominee Hillary Clinton, said that she wants everyone to "get along" and "love each other" in spite of differing beliefs.
"In this election year, it just seems more toxic than it's ever been. ... Whoever's going to win, there's going to be a lot of anger and a lot of hatred," she said. "And don't you think that it's worse than it's ever been and can you see a way to change that?"
I loved the time I got to spend with @OreillyFactor. And he didn't call me a pinhead. pic.twitter.com/Bz81mgSMp8

— Ellen DeGeneres (@TheEllenShow) September 26, 2016
DeGeneres went on to ask O'Reilly about Trump's refusal to release his tax returns.
"You know, I'd love to see them as journalist, I'd love to see them." O'Reilly said. "But it would kill him as a politician, because that would become the story in the last five weeks of the campaign."
—
Follow the author of this story on Twitter and Facebook: