Federal agents once persuaded police officers in southern California to use license-plate readers to gather information on gun show customers, according to a report posted at Wall Street Journal Sunday night.
Emails reviewed by the Journal revealed that agents with the Immigration and Customs Enforcement agency in 2010 planned to get local law enforcement to use the devices to gather information on cars parked in parking lots at gun shows, including a well-known show in Del Mar.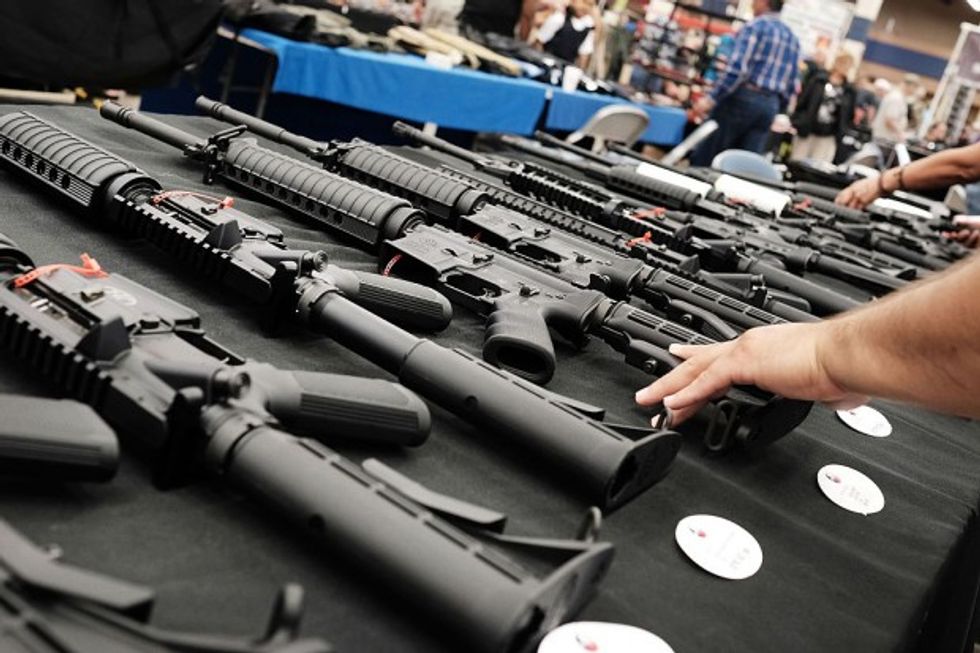 Guns sit for sale at a Dallas gun show where thousands of different weapons are displayed. (Getty Images/Spencer Platt)
More from the WSJ:
Agents then compared that information to cars that crossed the border, hoping to find gun smugglers, according to the documents and interviews with law-enforcement officials with knowledge of the operation.

The investigative tactic concerns privacy and guns-rights advocates, who call it an invasion of privacy. The law-enforcement officials say it is an important and legal tool for pursuing dangerous, hard-to-track illegal activity.
The practice, which didn't lead to any investigations or arrests and was confirmed by an ICE spokesperson, was widely condemned by those who spoke to the newspaper.
ACLU lawyer Jay Stanley said the practice "highlights the problem with mass collection of data." 
Erich Pratt, executive director of Gun Owners of America, told the Journal that the practice may even violate federal law: "Information on law-abiding gun owners ends up getting recorded, stored, and registered, which is a violation of the 1986 Firearm Owners Protection Act and of the Second Amendment."
Even the person who developed the plate-reading technology condemned the plan to mass gather information with the devices, saying it was an "abuse of technology."
"I think this was a situation that shows we need to establish policies for license-plate readers, like any new technology," he said.
The report continued:
Critics such as Mr. Pratt say using the technology for gun shows is illegal in any case because of the firearm owners act, which bans the government from creating records of gun buyers except temporarily for background checks.

The Journal obtained, through a request under the Freedom of Information Act, internal ICE emails showing agents in 2010 targeted a gun show called Crossroads of the West in Del Mar, Calif.

More than half of the pages provided by the agency were completely redacted, or blacked out; others have large sections redacted, apparently to keep secret how the surveillance was undertaken.

In an email titled "Request for Assistance," an ICE investigator wrote, "We would like to see if you can support an outbound guns/ammo operation on (redacted) at the Crossroads (Del Mar) Gun Show. We would like to deploy license plate readers." The email, whose sender and recipient are redacted, includes a large section of operational details that are also redacted.
Bob Templeton, who organizes the annual Del Mar gun show, which attracts as many as 9,000 gun enthusiasts each year, said his show customers would "resent" the government's "intrusion."
"It's obviously intrusive and an activity that hasn't proven to have any legitimate law-enforcement purpose," he told the Journal. "I think my customers would be resentful of having been the target of that kind of surveillance."
It isn't immediately clear how many times officers scanned parking lots to gather information, however, federal agents did inquire about doing it in the future, an email from June 2010 revealed, according to the paper.