Former Republican vice presidential nominee Sarah Palin took to Facebook Tuesday evening to note that, unlike the two male vice presidential nominees at the debate Tuesday night who were permitted to sit during their debate, she had to stand for hers — in heels.
The onetime Alaska governor pointed out that, unlike when she was the 2008 vice presidential candidate and had to stand for her debate with then-Sen. Joe Biden, the format of every other recent VP debate between two men had the candidates seated.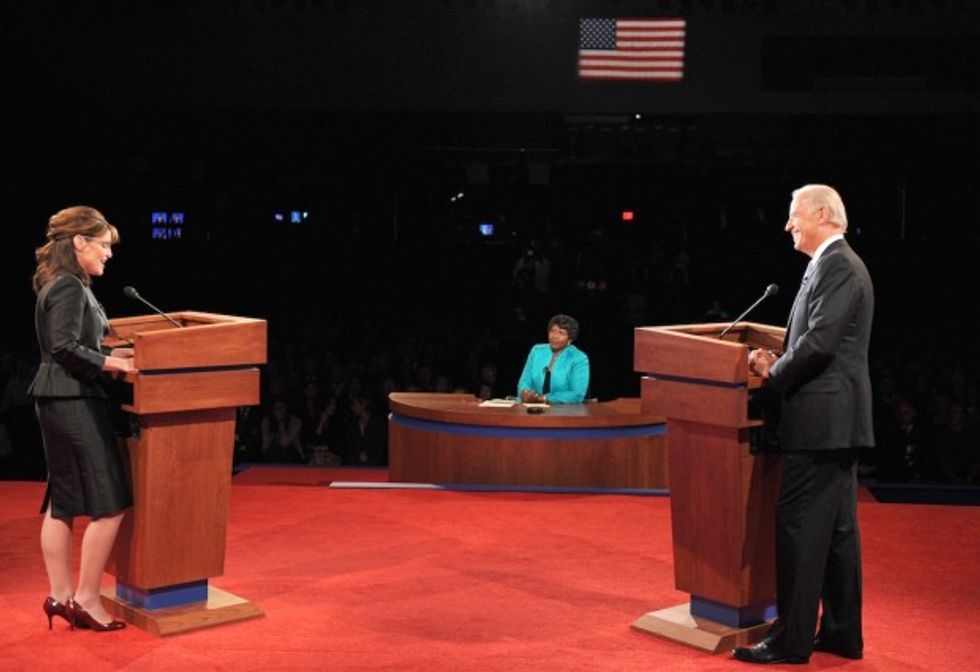 Then-Sen. Joe Biden (D-Del.) and then-Alaska Gov. Sarah Palin smile during the 2008 vice presidential debate in St. Louis, Missouri. (Don Emmert-Pool/Getty Images)
"How is it that the dudes lucked out and got chairs over the last 20 years of VP debates minus one?" Palin wrote. "Want a real test — try standing in [heels] for 90 [minutes] #heelsonglovesoff."
Some outlets critiqued Palin for complaining about the debate format, while others acknowledged her point.
The Huffington Post reported that Palin made "a pretty good observation" while Jezebel expressed shock that she is "not always wrong."
See Palin's post below:
—
Follow the author of this story on Twitter and Facebook: