Fox News host Sean Hannity tore into fellow network anchor Megyn Kelly Wednesday night, saying the popular "Kelly File" host "clearly" supports Democratic presidential nominee Hillary Clinton.
The comment was in response to Kelly's assertion earlier in the evening that Republican presidential nominee Donald Trump does not "venture out to the unsafe spaces," but instead appears almost exclusively on Hannity's late-night program.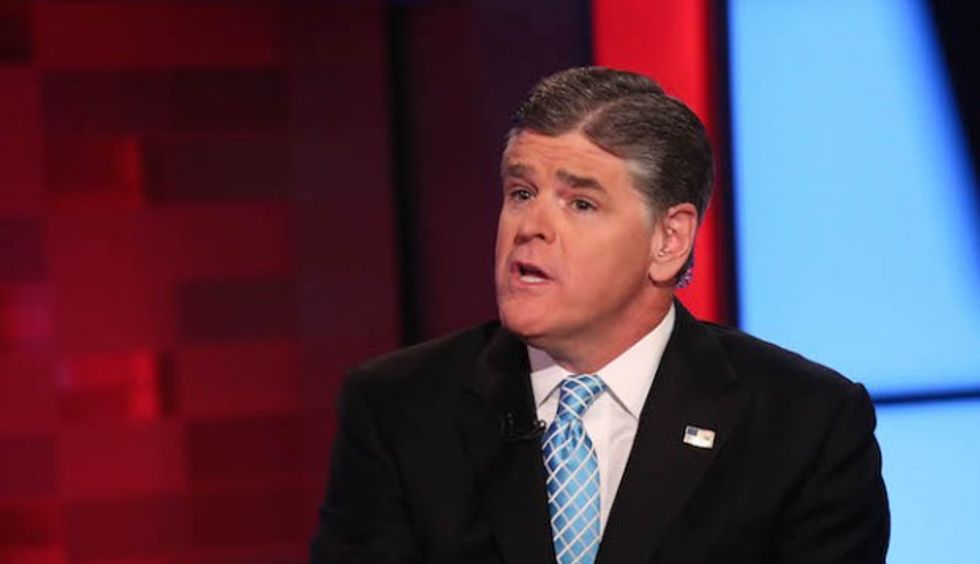 Sean Hannity appears on FOX News Channel's "Hannity" at FOX Studios on May 11, 2015 in New York City. (Photo by Rob Kim/Getty Images)
"Donald Trump, with all due respect to my friend at 10 o'clock, will go on Hannity and pretty much only Hannity and will not venture out to the unsafe spaces these days," she said.
In response, Hannity took to Twitter to write, "You should be mad at Hillary Clinton. Clearly you support her. And Donald Trump did talk to you."
It is clear Hannity took Kelly's comments personally. When challenged by one Twitter user to "stand by your colleagues," Hannity dug his heels in, responding, "Sure. When they stand by me."
This is not the first time Kelly has knocked Hannity, an unwavering supporter of Trump's candidacy. Following last week's first presidential debate, Kelly said, "We'll see whether he speaks to the journalists," after she learned Trump was speaking with Hannity in the spin room.
Following the dust up between the two Fox anchors, Kelly and Hannity took to Twitter to signal they are still "friends" despite the public spat.
We're Irish. It's complicated. #friends https://t.co/MRkimEuLMr

— Megyn Kelly (@Megyn Kelly) 1475805503.0
Hannity received a mild slap on the wrist from Fox leadership in August for appearing in a promotional video for the Trump campaign — something the network said will not happen again.
—