Republican National Committee chairman Reince Priebus has reacted to newly released video of Donald Trump speaking explicitly in 2005 about how he had made sexual advances toward women.
The GOP presidential candidate shared the comments during a conversation with former "Access Hollywood" host Billy Bush.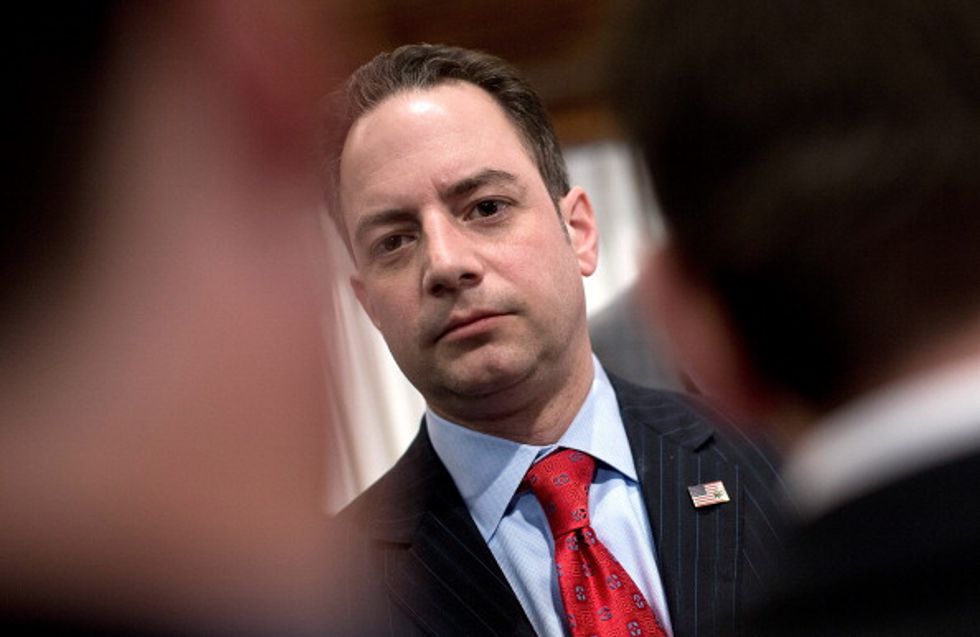 (Photo by Win McNamee/Getty Images)
In a brief statement Friday night, Priebus said no woman should "ever" be described with the words Trump used. In the video, first obtained by the Washington Post, Trump told Bush he could "do anything" because he's famous, including "grab" women "by the p***y."
"No woman should ever be described in these terms or talked about in this manner. Ever," Priebus, who last month floated the idea of penalizing Republicans who don't support Trump, said in a statement.
The release of the shocking comments by Trump comes one day before Priebus is scheduled to appear with the billionaire businessman for a campaign event in Wisconsin.
Other prominent Republicans also condemned the comments.
Former Florida Gov. Jeb Bush, Trump's one-time Republican presidential rival, wrote on Twitter that "no apology can excuse away Donald Trump's reprehensible comments degrading women."
As the grandfather of two precious girls, I find that no apology can excuse away Donald Trump's reprehensible comments degrading women.

— Jeb Bush (@JebBush) October 7, 2016
Ohio Gov. John Kasich, another vanquished GOP presidential hopeful, described Trump's remarks about women as "indefensible."
Make no mistake the comments were wrong and offensive. They are indefensible.

— John Kasich (@JohnKasich) October 7, 2016
Taking it a step further, 2012 Republican presidential nominee Mitt Romney's body man Garrett Jackson called on Mike Pence, Trump's running mate, to resign if the real estate developer doesn't because "he can no longer defend this man."
If @realDonaldTrump doesn't resign, @mike_pence should resign from the ticket. He can no longer defend this man

— Garrett Jackson (@dgjackson) October 7, 2016
—