A CNN/ORC poll of debate watchers from the second presidential debate showed that Democratic nominee Hillary Clinton was the decisive winner among poll respondents; however, the poll also contained some good news for Republican nominee Donald Trump.
According to the survey, Clinton was scored the winner by 57 percent of debate watchers, compared to 34 percent for Trump. This same poll showed that Clinton won the previous debate by a margin of 62 percent to 27 percent. Moreover, Clinton appeared to have made herself significantly more likable with debate watchers than Trump, as 55 percent of debate watchers responded that they had a "favorable" opinion of Clinton, compared to 44 percent who reported having an "unfavorable" opinion. Trump, meanwhile, was much more unpopular among debate watchers, with 34 percent reporting a "favorable" opinion of the New York businessman, compared to 63 percent who reported having an "unfavorable" opinion.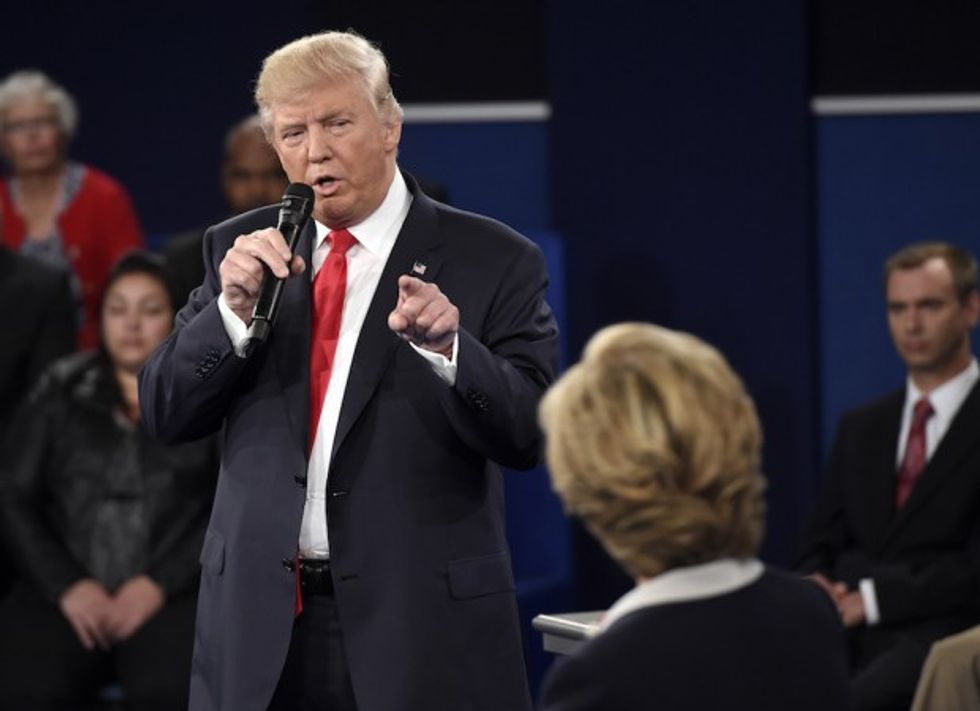 Republican presidential nominee Donald Trump points at Democratic presidential nominee Hillary Clinton as he speaks during the second presidential debate at Washington University in St. Louis, Missouri, Sunday. (Saul Loeb/Pool via AP)
However, the poll had at least some good news for Trump, with 63 percent of respondents indicating that Trump performed "better than expected" and only 21 percent responding that Trump performed "worse than expected" in the debate. This finding may help Trump at least right the ship and prevent future prominent Republican defections. Meanwhile, 39 percent of respondents indicated that Clinton performed "better than expected," while 26 percent indicated that she performed "worse than expected."
In almost every other metric, Clinton was scored by respondents as the clear winner in the debate. Respondents found her to be the better candidate to handle the economy (56 percent to 42 percent), to handle terrorism (57 percent to 40 percent) and to deal with immigration (58 percent to 41 percent). Perhaps most damaging to Trump, poll respondents indicated that she "seemed to be the stronger leader" by a margin of 59 percent to 38 percent.