Republican presidential nominee Donald Trump's campaign has parted ways with its Virginia state chairman after he organized a protest outside the Republican National Committee's headquarters on Monday.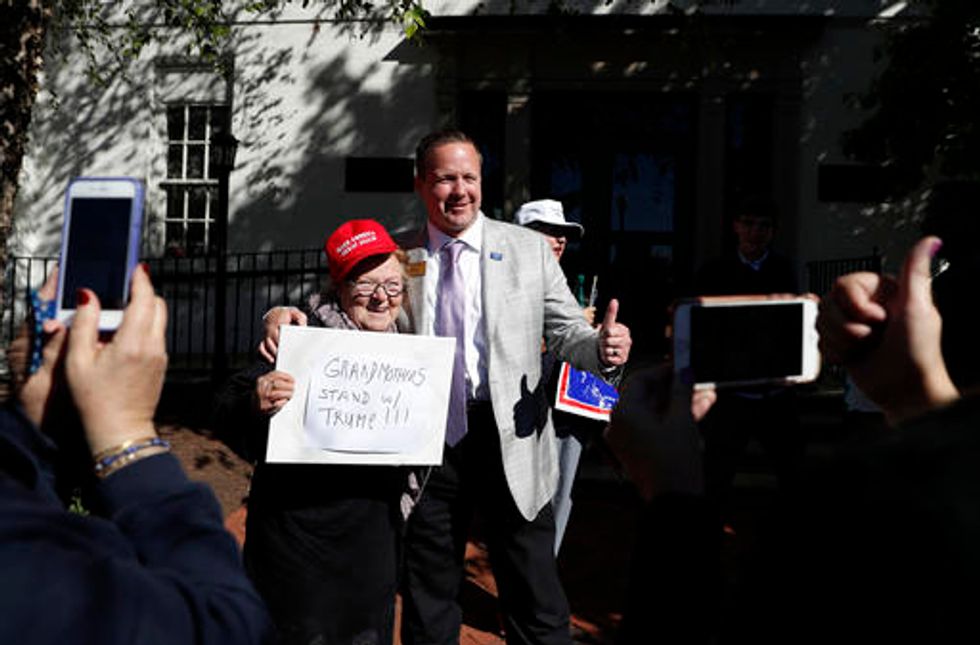 Corey Stewart, former chairman of Donald Trump's Virginia campaign, right, gives the thumbs-up as he poses for a photo with Trump supporter Heidi Saba with her sign that reads "Grandmothers Stand w/trump!!!" outside the Republican National Committee Headquarters in Washington on Monday. (AP/Carolyn Kaster)
The campaign confirmed in a statement today that Corey Stewart, the state chairman who is also running for governor, "is no longer affiliated" with the Trump campaign.
Stewart had reportedly organized a pro-Trump protest outside the RNC's Washington, D.C. headquarters today along with Virginia Women for Trump.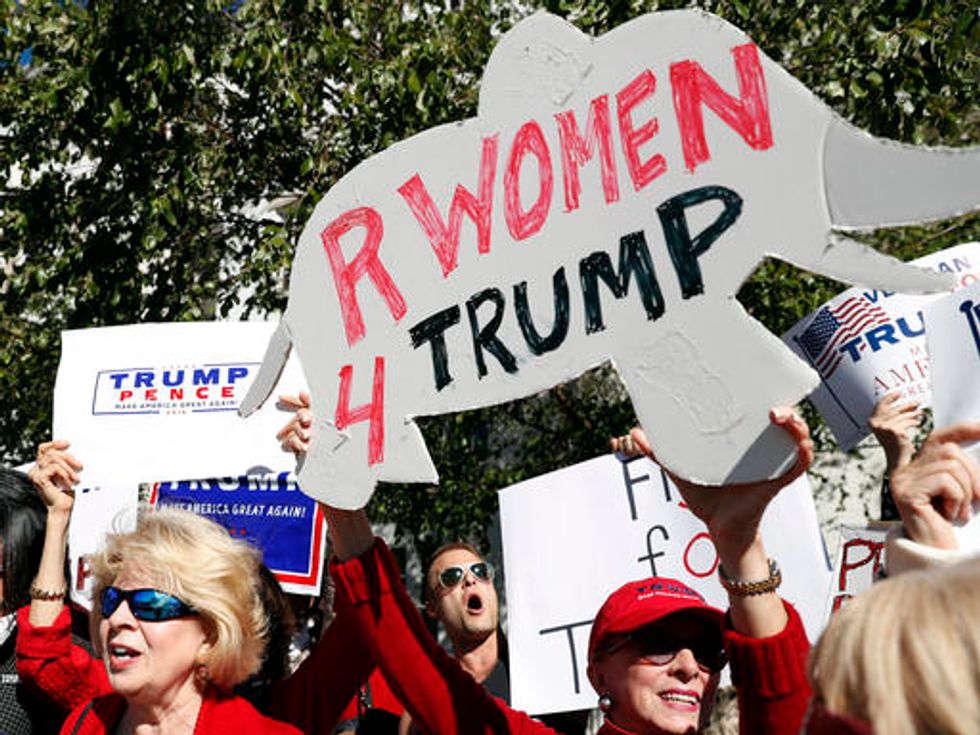 Supporters of Republican presidential candidate Donald Trump gather outside the RNC today. (AP/Carolyn Kaster)
At the event, Stewart accused the "RNC establishment pukes" of "averting" funds that Trump raised to other parts of the party, and of threatening him.
Corey Stewart, Trump campaign mgr in Virginia, calls out RNC "pukes". pic.twitter.com/XI6uzoyDTc

— Jeff Goldberg (@abc7jeffg) October 10, 2016
A number of attendees and journalists tweeted other images and videos from the event:
Protesters chant "We want Trump" outside RNC headquarters. pic.twitter.com/qYQmGShOaD

— Jeff Goldberg (@abc7jeffg) October 10, 2016
"Im so sick of these guys"' i hear trump supporter say outside RNC headquarters pic.twitter.com/bTe3NtlF7s

— Dorey Scheimer (@DoreyScheimer) October 10, 2016
Pro-Trump protester outside RNC HQ pic.twitter.com/Im80UGtcUf

— Robert Maguire (@RobertMaguire_) October 10, 2016
In the statement announcing the personnel change, Trump campaign manager Kellyanne Conway reaffirmed the campaign's "tremendous working relationship" with the RNC.
—
Follow the author of this story on Twitter and Facebook:
[facebook //www.facebook.com/plugins/like.php?href=