Kellyanne Conway, campaign manager for Republican presidential nominee Donald Trump, says the Manhattan billionaire's threat to put Democrat Hillary Clinton in prison, should he win the White House, was only a "quip."
The threat came Sunday in the middle of the second of three scheduled presidential debates between Trump and Clinton and was a break from typical debate decorum.
The "quip" came after Clinton said it is "awfully good that someone with the temperament of Donald Trump is not in charge of the law in our country."
"Because you'd be in jail," Trump shot back, receiving cheers from the debate crowd.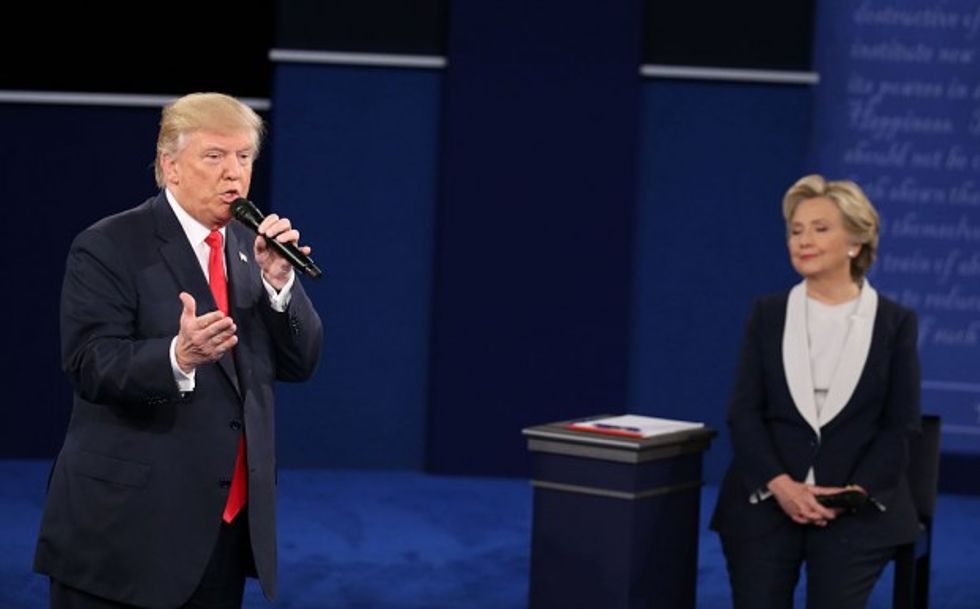 Republican presidential nominee Donald Trump speaks as Democratic candidate Hillary Clinton listens during the second presidential debate Sunday night in St. Louis, Missouri. (Getty Images/Tasos Katopodis/AFP)
But on MSNBC's "Morning Joe" Monday, Conway dismissed Trump's threat as a mere "quip" that was "channeling the frustration" of voters. The answer came in response to a question from show co-host Willie Geist, who asked Conway if Trump stands by his comment as of Monday morning.
"That was a quip," Conway said. "And I saw in NBC's own reporting, it was referred to as a 'quip,' so I'll go with NBC on it."
Just prior to Trump's threat, the real estate mogul told the debate crowd that as president he would appoint a special prosecutor to look into the criminality of Clinton's use of a private email server during her tenure as secretary of state, adding that people across the country are "furious" with Clinton.
To that, Conway told the panel on "Morning Joe" that it wouldn't be Trump's decision whether or not Clinton went to jail.
"It's up to whoever adjudicates whatever crime she has or has not committed," she said.
The FBI and Department of Justice announced in July they would not bring charges against Clinton for her email practices. However, prosecutors could take a second look at the case in the future and determine criminal charges to be appropriate, should the accused broken laws be within their statute of limitations.
—
Follow the author of this story on Twitter and Facebook:
[facebook //www.facebook.com/plugins/like.php?href=