The overwhelming focus of Sunday night's presidential debate was Republican nominee Donald Trump, and the hot-mic moment that surfaced Friday of comments he made about women in 2005.
If there was any question of ratings on the Sunday of a holiday weekend during a Green Bay Packers-New York Giants game, the weekend's whirlwind news cycle certainly stoked interest in the second of three presidential debates.
At one point, Trump complained that the debate was "one-on-three," because the moderators kept pressing him on recent happenings in the 2016 race, when he felt like they weren't applying the same scrutiny to his opponent, Democratic nominee Hillary Clinton.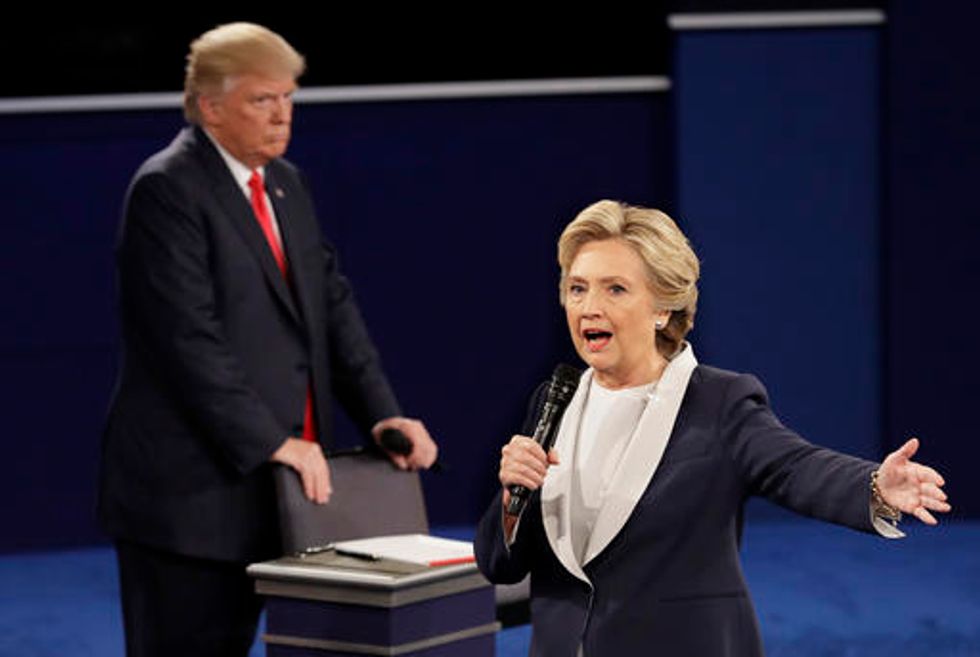 Donald Trump listens to Hillary Clinton during a debate at Washington University in St. Louis on Sunday. (AP/John Locher)
When debate moderator Anderson Cooper asked Trump about the leaked audio, in which Trump tells Access Hollywood's Billy Bush how he approaches women physically, Cooper described Trump's phrasing as depicting "assault."
"You described kissing women without their consent, grabbing their genitals," Cooper said. "That is sexual assault. You bragged that you have sexually assaulted women. Do you understand that?"
Trump disagreed with that characterization, and again called his comments "locker-room talk."
"Hillary Clinton and her kind have run our country into the ground. I've said some foolish things, but there's a big difference between the words and actions of other people," Trump said. "Bill Clinton has actually abused women and Hillary has bullied, attacked, shamed and intimidated his victims."
The two candidates spent the most time during the town hall-style debate talking about their own individual character and integrity.
The debate started off on an adversarial note, with the two candidates choosing not to shake hands upon taking the stage. It only got more tense from there, with Clinton again asserting that Trump is "unfit" for the presidency, and Trump telling Clinton that if he is elected he would instruct a special prosecutor to look into her handling of State Department emails for any criminal wrongdoing.
Trump also sought to deflect criticism after the leaked tape to his opponent's husband, former President Bill Clinton, for his own reported past actions against women.
Shortly before the debate, Trump held a press conference with several women who have accused Bill Clinton of sexual assault.
"Mr. Trump may have said some bad words, but Bill Clinton raped me, and Hillary Clinton threatened me," Juanita Broaddrick said. "I don't think there's any comparison."
There was some discussion of the issues — the candidates debated at length on Obamacare, for example, and outlined the different choices they would make for the Supreme Court. Clinton said she wanted to appoint someone who would uphold Roe v. Wade and marriage equality, and Trump said he has put together a list of justices whom he believes will adhere to the Constitution.
Trump had some zingers at key moments during the debate, including a line aimed at appealing to the "lock her up" contingent within his Republican base.
This was THE QUOTE of the #debate and maybe the entire election. "Because you'd be in jail" - Trump pic.twitter.com/rZbp2GBiQh

— Tim Young (@TimRunsHisMouth) October 10, 2016
After the debate, Trump skipped the spin room — where he made a rare appearance for a presidential candidate after debate No. 1. Clinton took a few questions from reporters on her jet.
Focus group reactions after the debate were mixed. CNN's poll of undecided voters showed that Clinton had won, while Frank Luntz's focus group shifted in favor of Trump.
—
Follow the author of this story on Twitter and Facebook:
[facebook //www.facebook.com/plugins/like.php?href=