Independent presidential candidate Evan McMullin is in a statistical tie with Republican Donald Trump and Democrat Hillary Clinton in Utah, according to a new poll from the state.
The state-wide poll, released by Mormon-owned Deseret News, found that Trump and Clinton are tied at 26 percent, and McMullin, who has been campaigning for only two months, garnered 22 percent. Libertarian Gary Johnson also received double-digit support with 14 percent.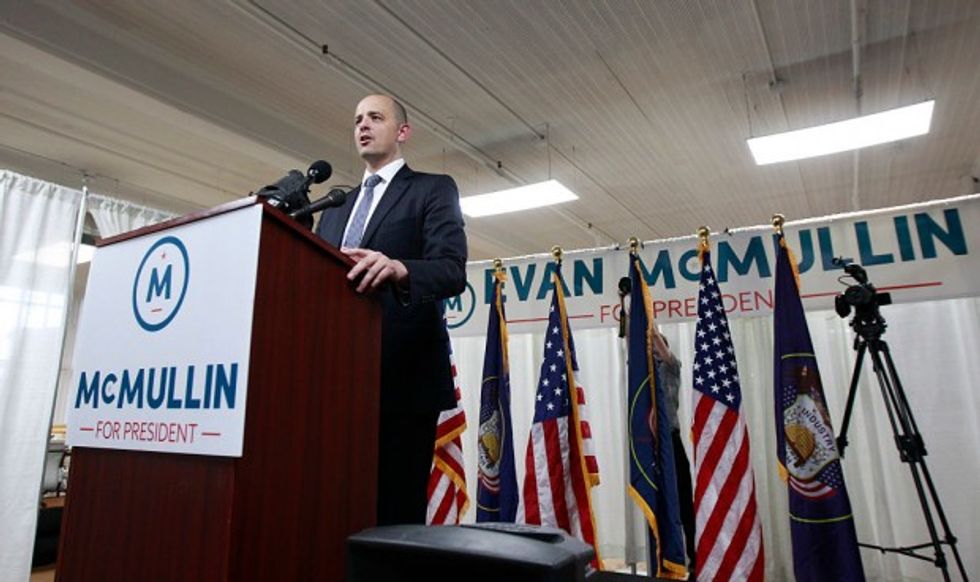 Former CIA agent Evan McMullin announces his presidential campaign as an independent candidate in August. (Getty Images/George Frey)
The poll proves that McMullin, whose home state is Utah, is within striking distance of winning Utah. If that were to happen, he would be the first independent candidate to win electoral votes in almost a half century.
"What we kept hearing would be impossible, has now happened. Citizens from the Beehive State can turn this election around. I'm proud to stand with them and to be a part of this unbelievable momentum guiding the 21st century into a new generation of leadership," McMullin said in a statement. "This is just the beginning and we will continue to grow our movement well beyond Utah."
Utah, however, isn't the only state that could potentially be won by a non-major-party candidate. Johnson has also been polling near or around 20 percent in New Mexico, where he served as governor for eight years.
The Utah poll suggests that McMullin and Johnson are taking votes from both Trump and Clinton, likely hurting Trump more given the deep-red roots of Utahans. Utah has voted Republican in every presidential election in the last 50 years. The last time it went to a Democrat was during Lyndon B. Johnson's 1964 victory.
The Utah poll, which was conducted by Salt Lake City-based Y2 Analytics, was comprised of 500 likely Utah voters and had a margin of error of +/- 4.4 percentage points.