Some Republican lawmakers who rescinded their support of the party's presidential nominee Donald Trump after the release of a video in which the candidate describes groping women are returning to the campaign.
In a 2005 video tape obtained by the Washington Post, Trump can be heard boasting that he can "do anything" to women because he is a "star" including grabbing them "by the pussy."
Sens. John Thune (R-S.D.) and Deb Fischer (R-Neb.) both called for Trump to exit the race in favor of his running mate, Indiana Gov. Mike Pence, after the comments surfaced, only to turn around and offer Trump their support when he did not.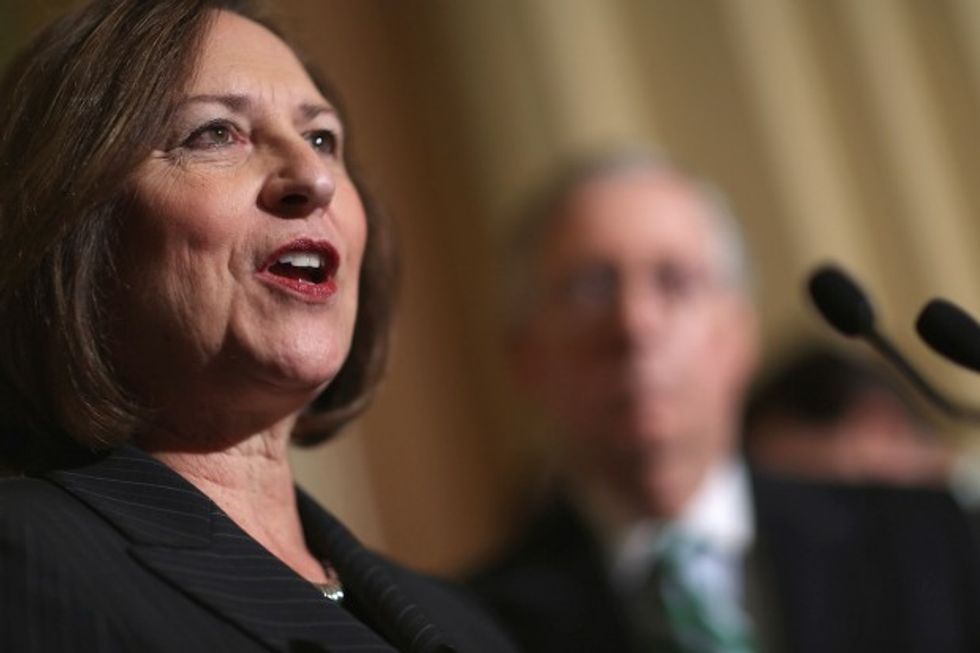 Nebraska Republican Sen. Deb Fischer (Chip Somodevilla/Getty Images)
After the tape's publication, Thune tweeted:
Donald Trump should withdraw and Mike Pence should be our nominee effective immediately.

— Senator John Thune (@SenJohnThune) October 8, 2016
Thune later told the Rapid City Journal that, although "the video that came out on Friday was to me out of all the statements made, that have come out during the campaign, was more offensive than anything that I had seen," he still plans to vote for Trump.
"I'm certainly not going to vote for Hillary Clinton," Thune said.
The day after the Post published the video, Fischer tweeted that "it would be wise" for Trump to "step aside."
The comments made by Mr. Trump were disgusting and totally unacceptable under any circumstance. (1/2)

— Deb Fischer (@DebFischerNE) October 8, 2016
It would be wise for him to step aside and allow Mike Pence to serve as our party's nominee. (2/2)

— Deb Fischer (@DebFischerNE) October 8, 2016
However, when he did not step aside, Fischer told Lincoln radio station KLIN-AM that she still plans "to vote for Mr. Trump and Mr. Pence on Nov. 8."
"I felt [the comments] were unacceptable, and I never said I was not voting for our Republican ticket," she continued.
According to the New York Times, Rep. Bradley Byrne (R-Ala.) told reporters that "It is now clear Donald Trump is not fit to be president of the United States," although he pledged to "be a supporter of the Republican ticket from top to bottom."
"I'm a Republican," Byrne said. "I don't vote Democrat."
The Times also reported that Rep. Scott Garrett (R-N.J.) also called for Trump to step aside for Pence, although he said he will "vote Trump for president if he is the party's official nominee come Election Day."
Trump has openly attacked Republican lawmakers whom he feels haven't supported his candidacy adequately, including House Speaker Paul Ryan (Wis.), characterizing them as worse than Democratic presidential nominee Hillary Clinton.
Disloyal R's are far more difficult than Crooked Hillary. They come at you from all sides. They don't know how to win - I will teach them!

— Donald J. Trump (@realDonaldTrump) October 11, 2016