A cardboard box "free-speech wall" was put together by conservative students at Colorado State University — which displayed liberal and conservative opinions.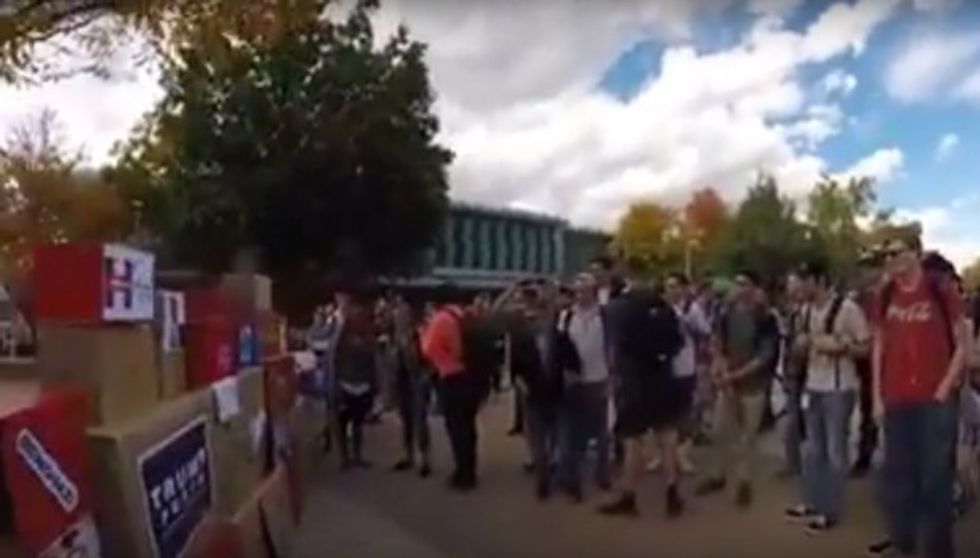 Free-speech wall at Colorado State University. (Image source: YouTube/Campus Reform)
But it was knocked down several times by livid left-leaning students on Tuesday, Campus Reform reported.
Why?
One dissenter caught on camera kicking remnants of the wall before storming off summed up the reasoning this way: "F*** fascists! F*** you!"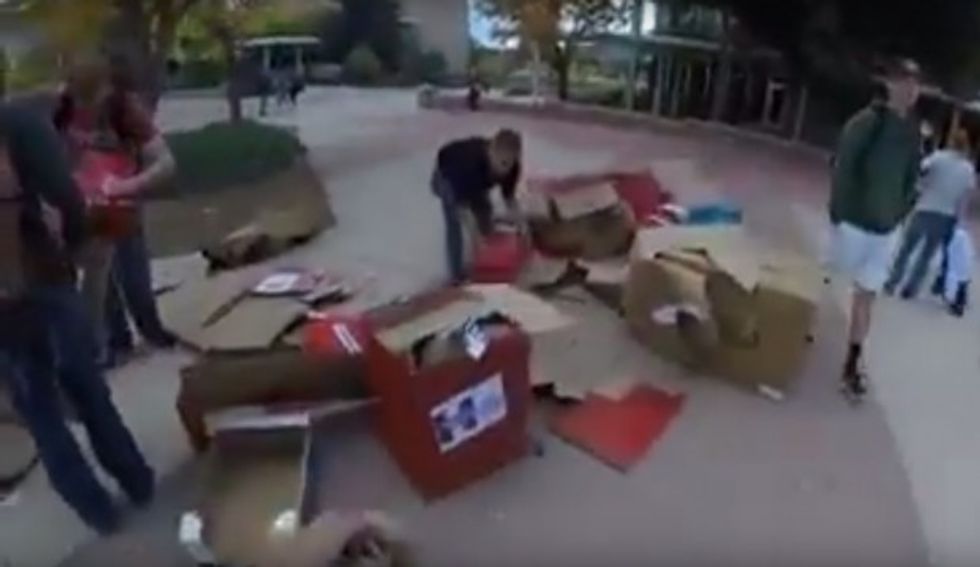 Image source: YouTube/Campus Reform
Another protester railed against Republican presidential nominee Donald Trump: "As a combat veteran, I can say, 'F*** tiny-handed Hitler and anybody who supports him.' That's a fascist motherf***er, and he's going to get what he deserves."
But amid the cries of racism and other complaints around the wall, a voice was heard that may have taken left-wing students aback.
It came from Juan Caro, chairman of the Conservative Interest Group — the student organization that put the wall together. He said he was called an "ignorant Hispanic, stupid, and f***ed in the head" for supporting Trump.
"The entire time I was wondering where the 'love' in 'Love Trumps Hate' was," he told Campus Reform. "All I witnessed as a Hispanic male was the horrible white-shaming of my fellow students."
One student was heard shouting down supporters of the wall, saying that "racism is an ideology that is used to keep people who are not designated as white down!" When another student countered her assertion that racism can be a "two-way street," she shot back with a compelling, "No, it's not! No, it's not! No, it's not!"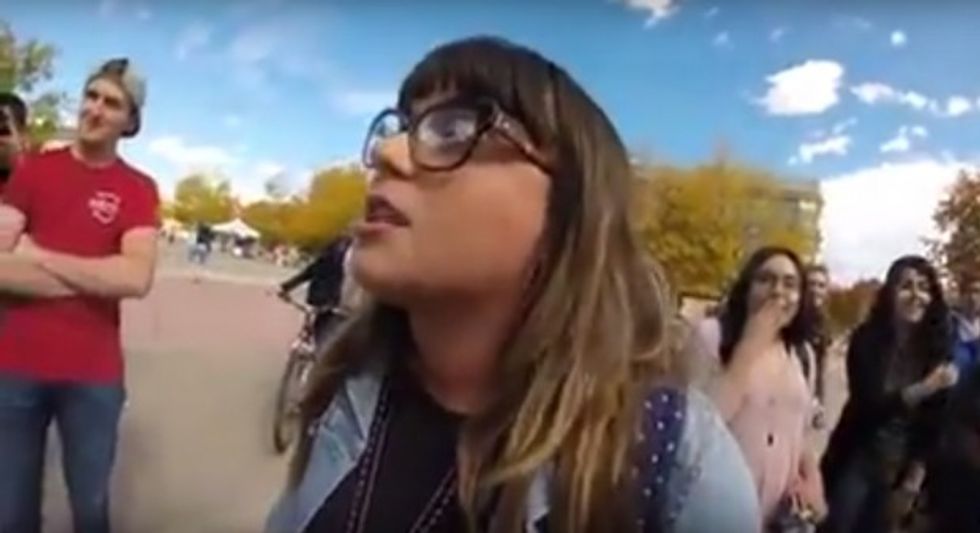 She doesn't much like the free-speech wall at Colorado State University. (Image source: YouTube/Campus Reform)
Campus Reform added that earlier that same woman called for the deportation of "all the white guys who could be potential shooters ... because statistics show that you're more likely to do that than anyone else." The outlet noted the punctuation of her argument: "So why don't we get you the f*** out of here?"
Caro told Campus Reform that progressive students held a rally on campus recently featuring a Trump pinata hanging from a tree.
"I did not see conservative protesters screaming, vandalizing and shaming anyone for their beliefs," Caro noted to the outlet. "But we build a free-speech wall on campus, and the entire school gets offended by it, all the supporters get called racists, and the demonstration gets destroyed multiple times. The hypocrisy is unbelievable."
Here's the clip. (Content warning: Profanity):