Republican presidential nominee Donald Trump is threatening to sue the New York Times if the publication does not retract its story highlighting two women who allege they were sexually assaulted by the Manhattan billionaire.
"Your article is reckless, defamatory and constitutes libel per se," Marc Kasowitz, Trump's lawyer, wrote in a letter to the publication.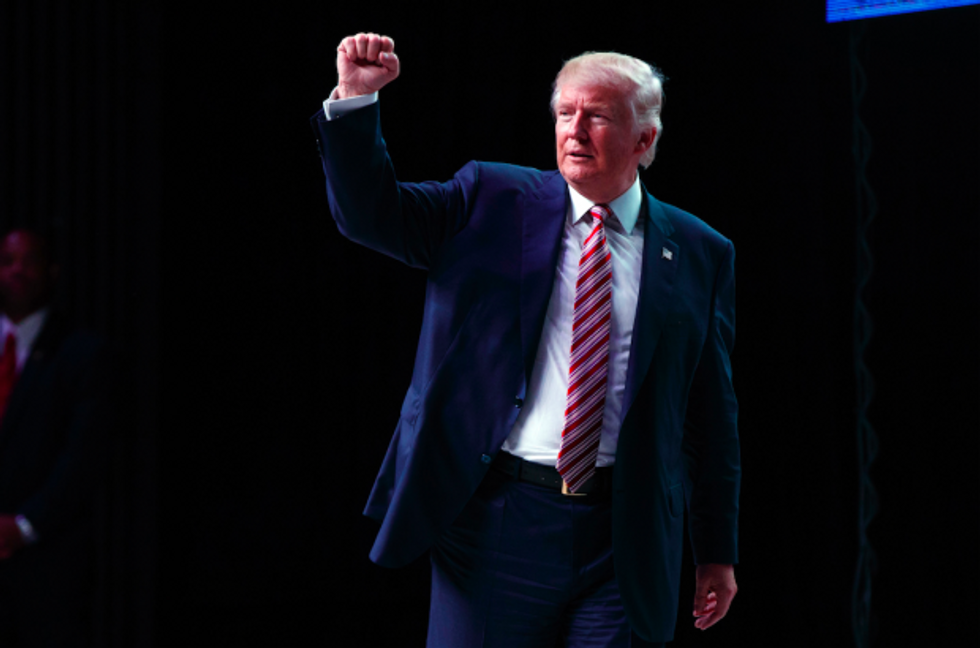 Republican presidential nominee Donald Trump pumps his fist during a campaign rally in Panama City, Florida. (AP Photo/Evan Vucci)
He continued:
It is apparent from, among other things, the timing of the article, that it is nothing more than a politically-motivated effort to defeat Mr. Trump's candidacy. That is why you apparently performed an entirely inadequate investigation to test the veracity of these false and malicious allegations, including why these two individuals waited, in one case, 11 years, and, in another case, more than three decades, before deciding to come forward with these false and defamatory statements. Clearly the New York Times is willing to provide a platform to anyone wishing to smear Mr. Trump's name and reputation prior to the election irrespective of whether the alleged statements have any basis in fact.
Kasowitz demanded that the Times "cease any further publication of this article, remove it from your website and issue a full and immediate retraction and apology" to avoid ramifications.
Leaked audio from 2005 revealed Trump discussing women in a lewd way and seemingly bragging about his ability to kiss and grab women in the crouch because he was a "star." However, he has maintained that despite his words, he never sexually assaulted anyone.
Yet two women went on the record with the Times to disagree with that statement.
Jessica Leeds, 74, recounted an encounter with Trump on an airplane more than 30 years ago when he allegedly grabbed her breasts and put his hands up her skirt.
Rachel Crooks said she was 22-years-old when she worked as a receptionist at a real estate investment and development company in Trump Tower. She said she tried to shake Trump's hand once in 2005 when she met him outside of an elevator, but instead of just shaking her hand, he kissed her on the cheeks and mouth.
"It is absurd to think that one of the most recognizable business leaders on the planet with a strong record of empowering women in his companies would do the things alleged in this story, and for this to only become public decades later in the final month of a campaign for president should say it all," Jason Miller, Trump's senior communications advisor, said in a statement Wednesday.
"To reach back decades in an attempt to smear Mr. Trump trivializes sexual assault, and it sets a new low for where the media is willing to go in its efforts to determine this election," Miller said.
Trump, too, blasted the report on Twitter Thursday morning.
"The phoney story in the failing [New York Times] is a TOTAL FABRICATION. Written by same people as last discredited story on women," he said. "WATCH!"
The phony story in the failing @nytimes is a TOTAL FABRICATION. Written by same people as last discredited story on women. WATCH!

— Donald J. Trump (@realDonaldTrump) October 13, 2016
He also criticized a report by former People magazine writer Natasha Stoynoff, who alleged in a piece Wednesday night of being sexually assaulted by Trump while on an assignment to cover him and his wife, Melania, who was pregnant at the time.
Stoynoff also went into detail about the aftermath of the alleged assault, including how she blamed herself for the incident for many years.
"Why didn't the writer of the twelve year old article in People Magazine mention the 'incident' in her story" about the Trumps, he tweeted. "Because it did not happen!"
Why didn't the writer of the twelve year old article in People Magazine mention the "incident" in her story. Because it did not happen!

— Donald J. Trump (@realDonaldTrump) October 13, 2016
Aside from the Times report, the Palm Beach Post reported that another woman has recently come forward, just over 10 years after an alleged sexual misdeed by Trump. Mindy McGillivray, now 36, alleged that she was groped by Trump at Mar-a-Lago 13 years ago.
And former Miss USA pageant contestants have disclosed that Trump would meet them backstage, sometimes as they were not fully clothed.
Former Miss Arizona Tasha Dixon alleged:
Our first introduction to him was when we were at the dress rehearsal and half naked changing into our bikinis. He just came strolling right in. There was no second to put a robe on or any sort of clothing or anything. Some girls were topless. Other girls were naked.
The pageant's theme during Dixon's competition year was empowering women, KCAL-TV reported.
Furthermore, another video of Trump was leaked Wednesday. In the footage from 1992 when Trump was 46-years-old, he asked a 10-year-old girl if she would be "going up the escalator." When she applied in the affirmative, he said, "I'm going to be dating her in 10 years. Can you believe it?"