According to Vice President Joe Biden, former President Bill Clinton's personal conduct while in office "shouldn't matter" because he "paid a price" for his behavior.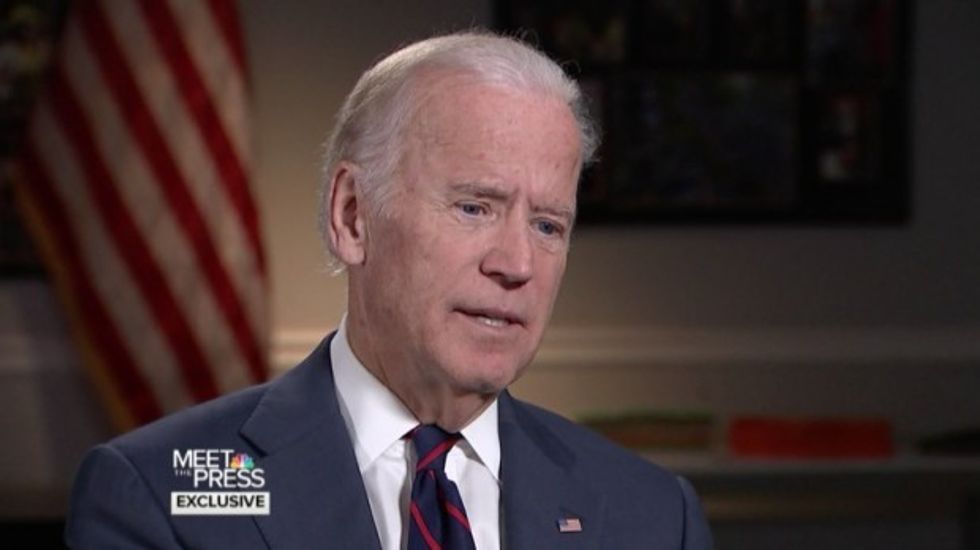 Image source: NBC News
In a clip from an interview with NBC News' Chuck Todd for "Meet the Press," which is set to air Sunday, Todd noted that Republican presidential nominee Donald Trump "is bringing up everything Bill Clinton" on the campaign trail.
"Should that matter?" Todd asked.
Biden replied that "No, it shouldn't matter."
"Look, I can't make any excuse for Bill Clinton's conduct," he continued. "And I wouldn't attempt to make any excuses for the conduct. But he paid a price for it. He paid a price. He was impeached. And he was — he expressed his deep sorrow and acknowledged what he did."
The House of Representatives impeached Clinton on charges of lying under oath to a federal grand jury and obstructing justice, although the Senate did not convict him. Clinton was later disbarred from practicing law.
Biden argued that Trump, meanwhile, "has acknowledged that he has been a sexual predator."
After the Washington Post published a 2005 video tape in which Trump describes grabbing women "by the pussy" and says he can "do anything" to women because he's a "star," multiple women came forward to allege that Trump sexually assaulted them.
Biden said that what Trump described on the tape was sexual assault.
"He's acknowledged that he's abused his power," Biden said, "and the — as I said — the textbook definition of what constitutes sexual assault."