A number of employees with a Denver-area school district are upset with their employer after they were recently asked to complete a "white privilege" survey, KMGH-TV reports.
The survey, which was distributed to Cherry Creek School District employees, asked employees to rate themselves on 26 statements such as, "Because of my race or color… I can comfortably avoid, ignore or minimize the impact of racism on my life," and "I can go into any hairdresser's shop and find someone who can cut my hair."
Employees would score themselves a five if the statement was always true, a three if it was sometimes true or a zero if it was never true.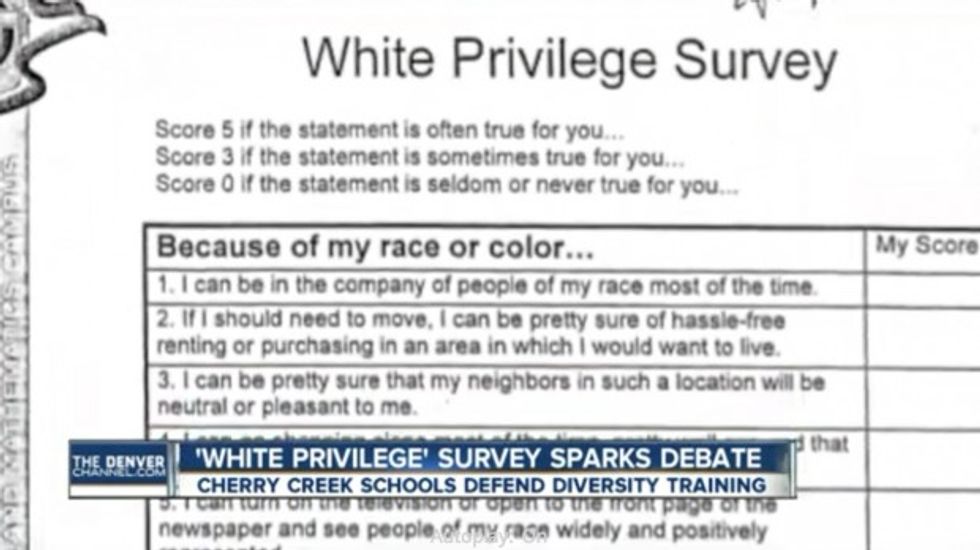 Image source: KMGH-TV
KMGH says they reported on the story after one of the district's employees contacted the news station informing them that he wasn't comfortable with the survey.
In a statement to KMGH, the district defended the survey, saying it was designed to help people understand that their life experience isn't always the same as those around them.
"It was designed to make people aware that their experiences, whatever they are, wherever they come from, are not exactly the same as other people's," district spokesman Tustin Amole told KMGH.
Amole added that the school district has used the survey many times since 2003 during diversity training to address "opportunity gaps" between students who come from different backgrounds. According to Amole, 45 percent of the district's students are not white.
"This work works," she said. "And we will continue to do it."
The exact same survey sparked outrage in Oregon earlier this month after high school students were asked to complete it for a class. Parents accused that school of attempting to push a political agenda.
(H/T: Heat Street)