Republican presidential nominee Donald Trump took to Twitter early Saturday to lash out at the media, who the billionaire businessman says is rigging the election to elect "Crooked Hillary."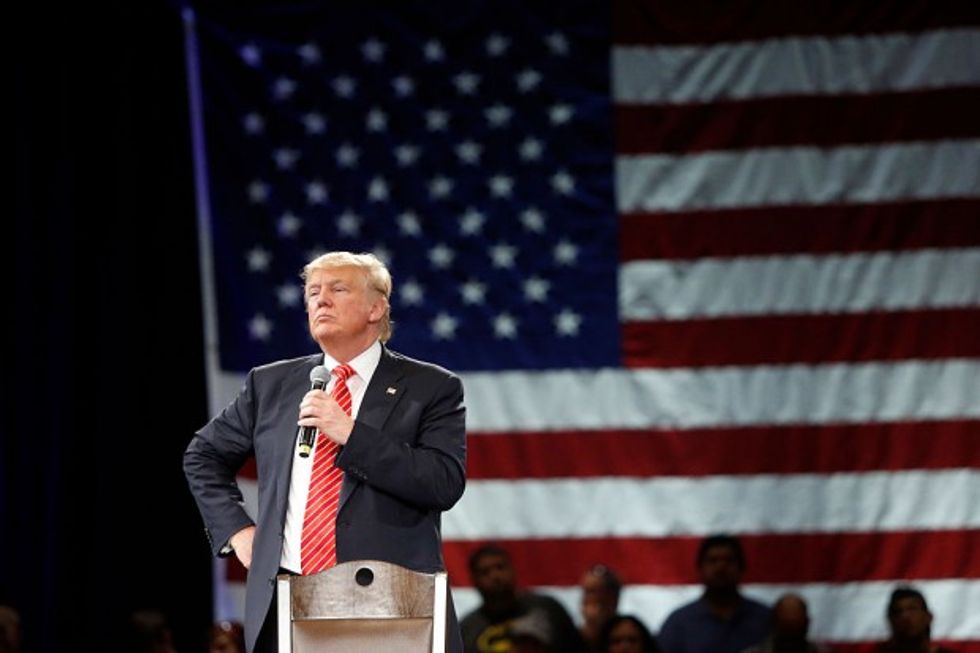 Getty Images/Brian Blanco
Trump, addressing the numerous sexual assault and harassment allegations made against him over the last two weeks by a myriad of different women, said the allegations are "100% fabricated" by the media to "poison the minds" of American voters.
Those allegations, which Trump labeled "outright lies," are being used by the media to simply elect Democratic nominee Hillary Clinton, Trump tweeted.
100% fabricated and made-up charges, pushed strongly by the media and the Clinton Campaign, may poison the minds of the American Voter. FIX!

— Donald J. Trump (@realDonaldTrump)

October 15, 2016
This election is being rigged by the media pushing false and unsubstantiated charges, and outright lies, in order to elect Crooked Hillary!

— Donald J. Trump (@realDonaldTrump) October 15, 2016
Just a short time later, Trump, who is speaking in Maine on Saturday, tweeted that Clinton should "have been prosecuted" and "should be in jail," while lamenting over her presidential candidacy.
Hillary Clinton should have been prosecuted and should be in jail. Instead she is running for president in what looks like a rigged election

— Donald J. Trump (@realDonaldTrump) October 15, 2016
The sexual assault allegations against Trump were blown wide-open earlier this month after the Washington Post published bombshell audio of Trump speaking extremely lewdly of women in 2005.
Since then, more than a dozen women have spoken out against Trump, saying that he sexually harassed or assaulted them in the past.
For his part, however, Trump maintains that he is innocent of all charges and that he is merely the victim of a coordinated attack by Clinton's campaign and the media.
—