Planned Parenthood, the nation's largest abortion provider, marked its 100th anniversary on Sunday.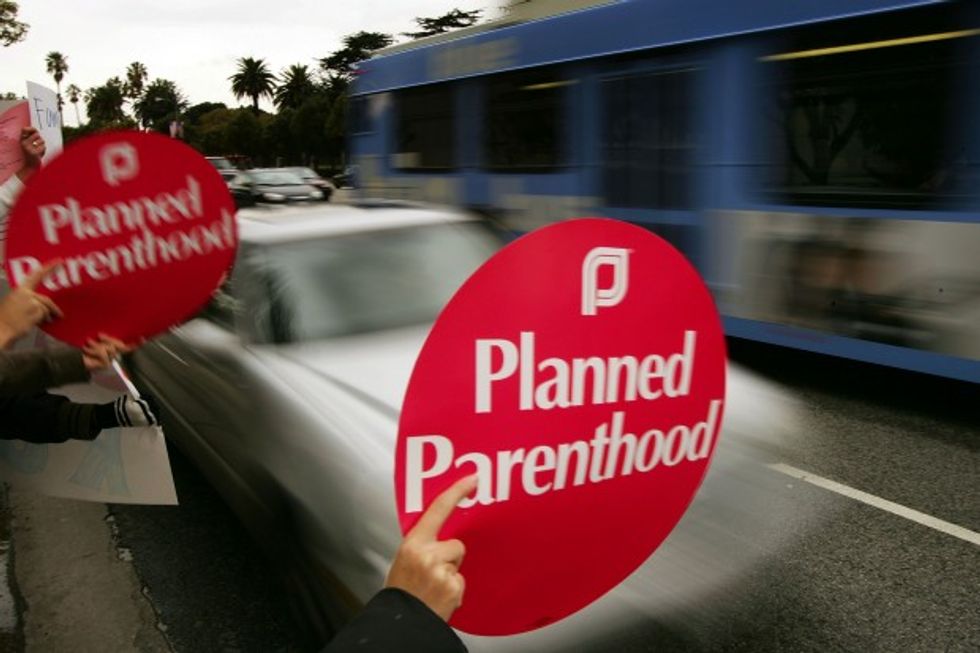 Members of Planned Parenthood rally to mark the 35th anniversary of the Roe v. Wade decision legalizing abortion on January 22, 2008 in Westwood, California.(Getty Images/David McNew)

The organization traces its roots to the first birth-control clinic in the United States, founded on Oct. 16, 1916, by Margaret Sanger. Sanger later started the American Birth Control League in 1921, which became part of the Planned Parenthood Federation of America in 1942.
We're celebrating Planned Parenthood's #100YearsStrong. Tag us in your strong selfie to show you #StandWithPP. pic.twitter.com/djCs8KaEEh

— Planned Parenthood (@PPact) October 16, 2016
During her lifetime, Sanger became associated with the eugenics movement, a philosophy that stipulates that society may be improved by barring those deemed unfit from having children. In her book "Woman and the New Race," she wrote that birth control was to play a key role in bringing about her vision.
"Birth control itself, often denounced as a violation of natural law, is nothing more or less than the facilitation of the process of weeding out the unfit, of preventing the birth of defectives or of those who will become defectives," Sanger wrote in "Woman and the New Race."
Planned Parenthood began to perform legal abortions after the Supreme Court legalized the procedure in its Roe vs. Wade decision in 1973.
However, not everyone saw the organization's birthday as a cause for celebration.
A coalition of pro-life groups launched a social media campaign using the hashtag #100YearsofAbuse to highlight their opposition to Planned Parenthood.
In a joint statement, the coalition — comprised of Alliance Defending Freedom, Americans United for Life, Civil Rights for the Unborn, Family Research Council, Life Legal Defense Foundation, March for Life, Media Research Center, Pro-Life Action League, Radiance Foundation, Students for Life of America and Susan B. Anthony List — called Planned Parenthood's 100-year anniversary "a tragic milestone for our nation and a reminder of the millions of unborn children who will never have a birthday."
"We mourn these children, as well as the women who have been hurt and exploited by the nation's largest abortion chain," the statement read. "Planned Parenthood was founded by the notorious Margaret Sanger, who advocated for the eradication of poor and disadvantaged, whom she considered less-than-human 'weeds.' And Planned Parenthood continues to call this villain their hero by naming its highest award after her."
The coalition added:
In the last three years alone, Planned Parenthood has committed nearly one million abortions while receiving a total of $1.5 billion from the American people, against our will. We represent the growing number of Americans who oppose Planned Parenthood's extreme abortion agenda and seek to defund this abortion giant.

On its 100th anniversary, Planned Parenthood is losing ground. Business is drying up as women are empowered to choose life for their babies. Last year Planned Parenthood closed 33 facilities in 18 states, and for the first time, the United States Senate sent a bill defunding Planned Parenthood to the President's desk. Thanks to undercover investigators from the Center for Medical Progress, who exposed the ugly truth that Planned Parenthood not only aborts children, but sells those aborted babies' organs, more people than ever are learning the truth about the scandal-ridden abortion chain. The #100YearsofAbuse campaign is the next opportunity for us to educate the public about Planned Parenthood as we work to put them out of business and ring in the pro-life century.
Many pro-life activists argued that as Planned Parenthood celebrated its own birthday, they deny birthdays to others.
Planned Parenthood means exploitation of women. #100YearsStrong#100YearsOfAbuse

— Abby Johnson (@AbbyJohnson) October 16, 2016
.@PPact is celebrating its 100-year birthday today, yet it has denied over 7 million little boys and girls their birthdays​ #100YearsWrong

— Lila Rose (@LilaGraceRose) October 16, 2016
Strength is shown in protecting the weakest not killing them for profit. Planned Parenthood celebrates #100YearsOfMurder not #100YearsStrong

— Fr Matthew Schneider (@FrMatthewLC) October 16, 2016
I believe in birthdays for everyone, not just the meticulously "Planned." #100YearsOfAbuse#100YearsStrong#100yearswrong#PlannedParenthood

— Nicole Stacy (@Nicole_in_DC) October 16, 2016
I don't #StandwithPP because women deserve better than @PPact. Planned Parenthood isn't #100YearsStrong, they're #100YearsWrong.

— Kate Bryan (@katembryan) October 16, 2016
When the strong prey on the weak, that's nothing to celebrate. Planned Parenthood is not #100YearsStrong. It's #100YearsOfAbuse.

— Susan B Anthony List (@SBAList) October 16, 2016
#PlannedParenthood turns 100 on Oct 16th. They celebrate & we grieve. #abortionhurtswomen#100yearsofabuse#lovethemboth#plannedparenthood

— Fr. Frank Pavone (@frfrankpavone) October 16, 2016
The irony of Planned Parenthood celebrating its 100th birthday when its business is making sure millions never see their first.

— Classy Catholic (@ClassyCatholic) October 16, 2016
President Barack Obama and Democratic presidential nominee Hillary Clinton offered their praise to the organization on Sunday.
For a century, Planned Parenthood has made it possible for women to determine their own lives. Here's to another #100YearsStrong.

— President Obama (@POTUS) October 16, 2016
Thank you @HillaryClinton & everyone fighting for autonomy & health for all. 100 years, and we're just getting started. #ActStrongpic.twitter.com/YfyrKkaFRN

— Cecile Richards (@CecileRichards) October 16, 2016
In an op-ed for Time magazine regarding her organization's centennial anniversary, Planned Parenthood president and CEO Cecile Richards wrote that "since the legalization of abortion in 1973, Planned Parenthood has proudly provided abortion care and fought every effort to roll back our rights."
"We are part of the fabric of American life in all 50 states," Richards wrote.
She argued that "Planned Parenthood's first century was fueled by a defiant fight to secure the right to reproductive health care."
"In our second century, we're not settling for rights in name only, or for only a few," Richards wrote. "We will build a world where neither income nor zip code nor race nor gender determines whether a person can get reproductive care, where no one is shamed for making their own sexual and reproductive health choices. One hundred years in, we are proud of our legacy—and we are just getting started."
As Planned Parenthood celebrated it's 100th birthday, the organization faces an ongoing congressional investigation into allegations that they profited from the sale of aborted fetal body parts. The organization has denied illegal conduct.
In an op-ed for The Stream, Rep. Marsha Blackburn (R-Tenn.), chair of the House of Representatives' Select Panel on Infant Lives, wrote that "the American people deserve to know the truth" about Planned Parenthood.
"That is exactly why we are continuing to work diligently at the Select Investigative Panel to expose the real face of America's abortion industry," Blackburn wrote.